It is not only the excellent food and outstanding Frisian hospitality that draws me back to Texel in the Netherlands; it is a wonderful place to watch birds. Yes, in comparison to the top UK hotspots like Scilly and Shetland it might seem tame, but Texel has a magic of its own. It does pull in some very good birds too, including Red-necked Stint this year and a Caspian Plover two years ago.
Texel is the largest and southernmost of the Wadden Islands, an archipelago that stretches from Holland through Germany to Denmark. The visiting birder has ample choice of habitat to explore but I find the northernmost tip around De Cocksdorp the most productive, and that is where I was based this time. The area consists of around 600 acres of arable farmland, surrounded on three sides by mudflats and some mixed woodland. There are numerous plantations and bushes that, like any prime coastal spot, shouldn't be ignored. For me, the pull of the area is the excellent wader habitat, the excitement of visible migration, and the feeling that a good bird is just around the corner. The bird list does have a rather British feel to it, with just a dash of the continental.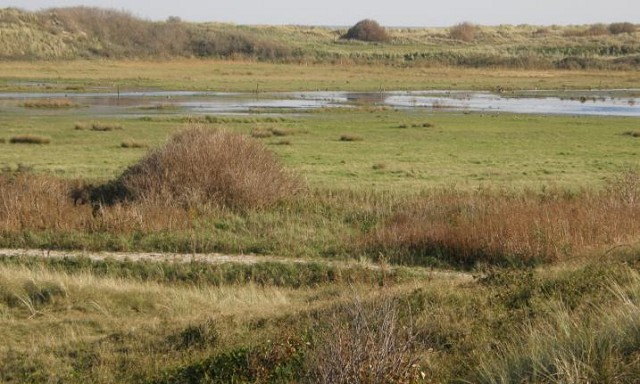 Texel (Andy Hall).
My week began on the Saturday afternoon with some super close views of Knot and Turnstone and a seawatch, which pulled in a Great Skua and three Arctic Terns. Dark-bellied Brent Geese were everywhere; indeed, up to 10,000 birds winter on the island. A female Merlin, Sparrowhawk, Hen Harrier and Common Buzzard kept the various dabbling ducks and migrants on their toes, though I was a couple of weeks early for Rough-legged Buzzards, which are regular and reliable here in winter.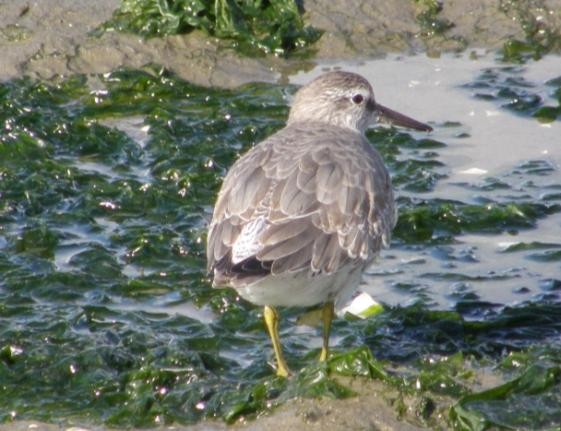 Knot, Texel (Andy Hall).
The next four days were characterised by varying amounts of rain but it was in this period that I saw some of the best birds. I met up with my friend Wietze Janse and his nephew Jonathan on the Sunday. The first couple of hours were dry with the northwesterly winds easing, but migration was very much in evidence. We counted a minimum of 1,000 Chaffinches through, three different Ring Ouzels in the bushes and a superb pair of Goshawk hunting over the area. In the afternoon we drove south and checked out some of the extensive wader habitat on the east coast, although one Little Stint and many Avocets were the only birds of note and we failed to find the Sabine's Gull that had been reported in fields there earlier. A journey to the southern tip of the island around De Mokbuy produced two Spoonbills and another Hen Harrier.
I was alone for the rest of the week and restricted myself to De Cocksdorp, opting for a strategy of intensive coverage rather than checking areas further south. The Monday began with gale-force westerly winds and drizzle. I saw a male Goshawk in the morning, another Arctic Tern offshore in the afternoon and then spent an hour traipsing around a boggy field attempting to locate a likely-looking Little Bunting that flew in. Alas, it somehow slipped away unnoticed.

Fieldfare, Texel (Andy Hall).
Tuesday was the wettest day but with light and variable winds. I started with a brief look at the sea and located a female Greater Scaup and a drake Common Scoter. In the bushes mid-morning I found a late Spotted Flycatcher and a single Acrocephalus warbler, which I eventually identified as a 1st-winter Marsh Warbler. A nice bird, though not the rarity it is in the UK. I turned in with high hopes as the winds began to blow from the east!
The Wednesday was dull and drizzly but did not dampen my spirits and I soon realised there had been a nice fall of Chiffchaffs, including two interesting abietinus individuals. I also spent time looking at Coal Tits, which here are of the continental race ater, and Long-tailed Tits, which are of the rather crisp europaeus race. In the afternoon, after seven hours of checking every bush, I located a Yellow-browed Warbler with a mixed tit flock by the church in De Cocksdorp and a little later had excellent views of a very vocal Short-toed Treecreeper. While Common Treecreeper occurs on Texel, it is by far the rarer of the two and appeared only as an occasional migrant. I saw one near De Koog, in 2009.
Thursday was bright and sunny with light southeasterlies and my daily wader count included 45 Greenshanks and four Spotted Redshanks on the river in De Cocksdorp. These were in addition to the waders in the damp fields just in from the coast that attracted good numbers of Grey Plovers, Golden Plovers, Ringed Plovers, Bar-tailed Godwits and Curlews. Visible migration picked up; it was very much a Fieldfare day with an estimated 1,000–3,000 passing through. I also saw Snow Bunting, showing down to 10 feet on the beach, and other passerine migrants included both Common and Black Redstarts, two Northern Wheatears and a flock of 50 Bramblings with 100 Chaffinches.

Snow Bunting, Texel (Andy Hall).
The Friday was again sunny and clear with light winds and even better visible migration. There had to be 5,000 Redwings and maybe 300–500 Song Thrushes nervously 'szeeeping' and 'thipping' from tree to tree. Blackcaps were dripping from the trees with six in one bush at one point. A birder I met later said he had personally counted 40 Blackcaps. Skylarks were also moving through in their hundreds with Bramblings not far behind. I finished off the week with a Jack Snipe on the river along with 54 Greenshanks, and I relocated a Great Grey Shrike found the previous day near the campsite. On the mudflats just before dusk was a single Spoonbill and a rather replete-looking Peregrine Falcon.
I think that to do Texel justice a two-week trip is required; especially if you can coincide with the Dutch Birding weekend on the island, which turns up more rarities, owing to the huge increase in observer coverage. Finally, I should mention my return sea crossing — the outwards one was at night — that began with two Great White Egrets southeast over the harbour at Hoek van Holland. The seven-hour journey itself, five hours of which I spent on deck, produced nine Little Gulls, 60 Gannets, two Fulmars, six Kittiwake, 25 Common Guillemots, three Great Skuas and a Pomarine Skua.
Texel can be reached fairly easily by ferry from Harwich to Hoek van Holland, then from there by train to Den Helder and the ferry to Texel itself. The ferry from Harwich takes seven hours and I paid £110 return including a cabin on the outward crossing, including breakfast. The train waits on the platform to meet the ship at Hoek Van Holland and costs €20 each way to Den Helder, a journey of 124 miles that takes two and a half hours with changes at Rotterdam and Amsterdam. At Den Helder a shuttle bus takes you to the ferry for €2. The Texel ferry leaves every hour from 7am until 9pm and costs €3 for a return ticket.