The August Birder Special Pelagic season in Scilly is a firmly established fixture in the British birding calendar. This year about 200 birders made the journey to Scilly for an adventure on the high seas aboard MV Sapphire, with skipper Joe Pender and his dog Bella, myself as leader, spotter John Higginson, and chummer Jim Askins. Scillonian waters were teaming with all sorts of wildlife and there were numerous spectacular feeding 'frenzies' with thousands of shearwaters over dolphin and Atlantic Bluefin Tuna feeds.
Promising signs early in the season included a close encounter with a Leatherback Turtle, a fabulous immature Long-tailed Skua, and an early return of that Scilly speciality, Wilson's Storm Petrel. Wilson's is still highly sought after in British waters and the species was reliable this year, being seen on all but a few pelagic trips throughout July and August.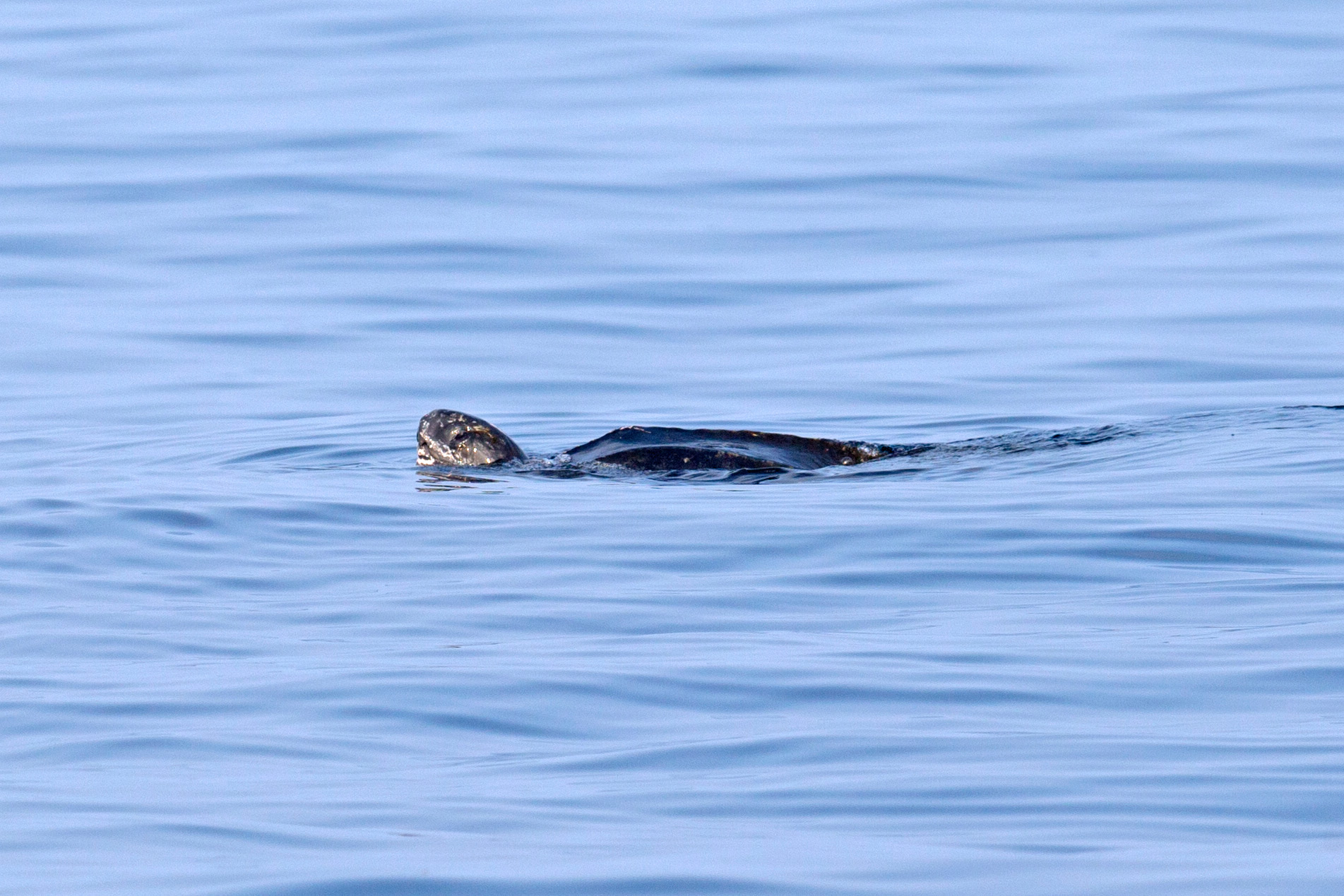 This Leatherback Turtle was one of the non-avian highlights of the 2018 pelagic season.
Wilson's breed from December to April on the Antarctic continent and on subantarctic islands. Chicks grow fast and fledge quickly before the harsh Antarctic winter arrives. Fledging takes place in mid-March on the Antarctic continent and by May elsewhere. This year, the 40 g immatures arrived in Scillonian waters in July, just a few months after fledging, having travelled over 8,000 miles as the crow flies – simply staggering! The fresh juveniles were easily distinguished from adults, which showed worn plumage with moulting flight feathers.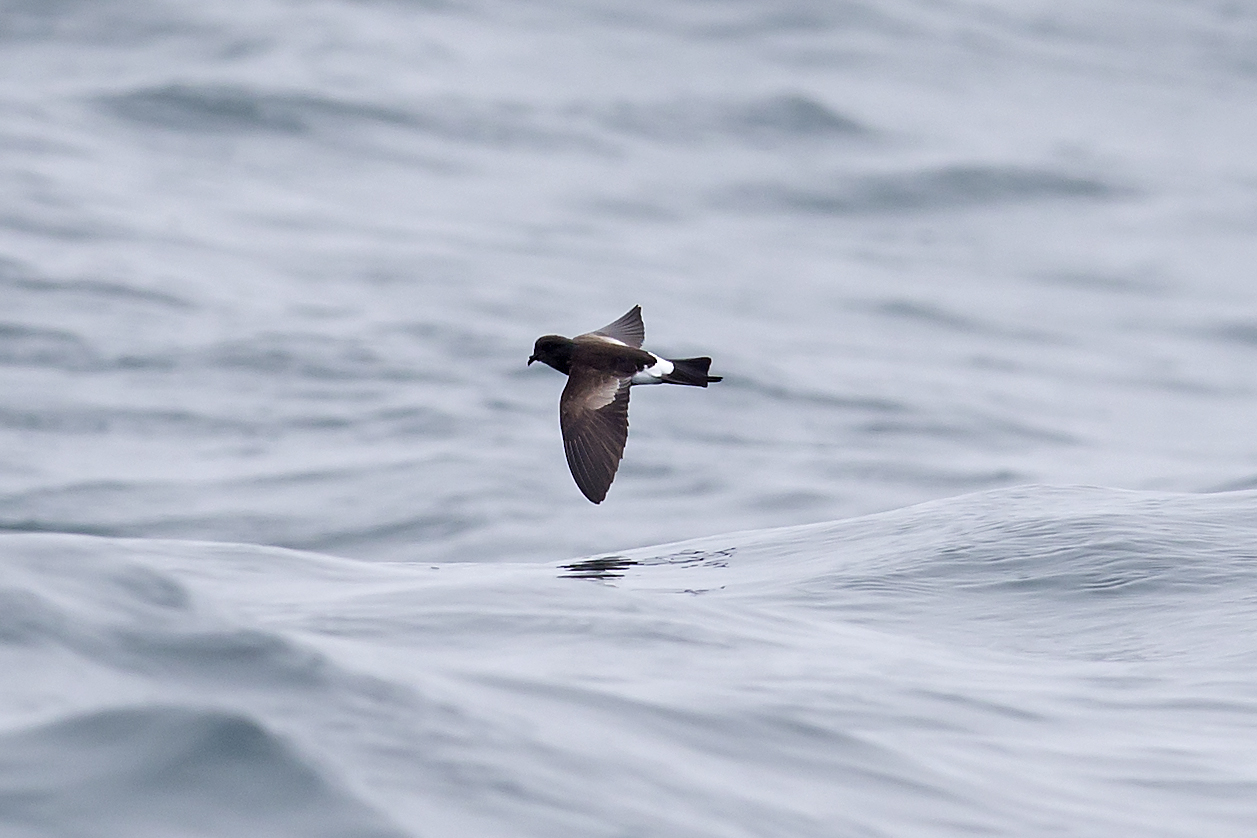 Juvenile Wilson's Storm Petrels, identifiable by their fresh plumage, arrived in Scilly waters from July onwards, having already flown over 8,000 miles in the few months since fledging (Joe Pender).
On Scilly, European Storm Petrels breed mainly along the boulder beaches of uninhabited islands and are a delight of every pelagic trip. Many trips this year saw European and Wilson's Storm Petrels feeding side by side over the oily chum slick. The two were easily separated on flight jizz alone: tiny Europeans feeding restlessly over the slick, jinking one way then the other, like busy bees, Wilson's gliding gracefully over the slick with relaxed flight and feeding actions.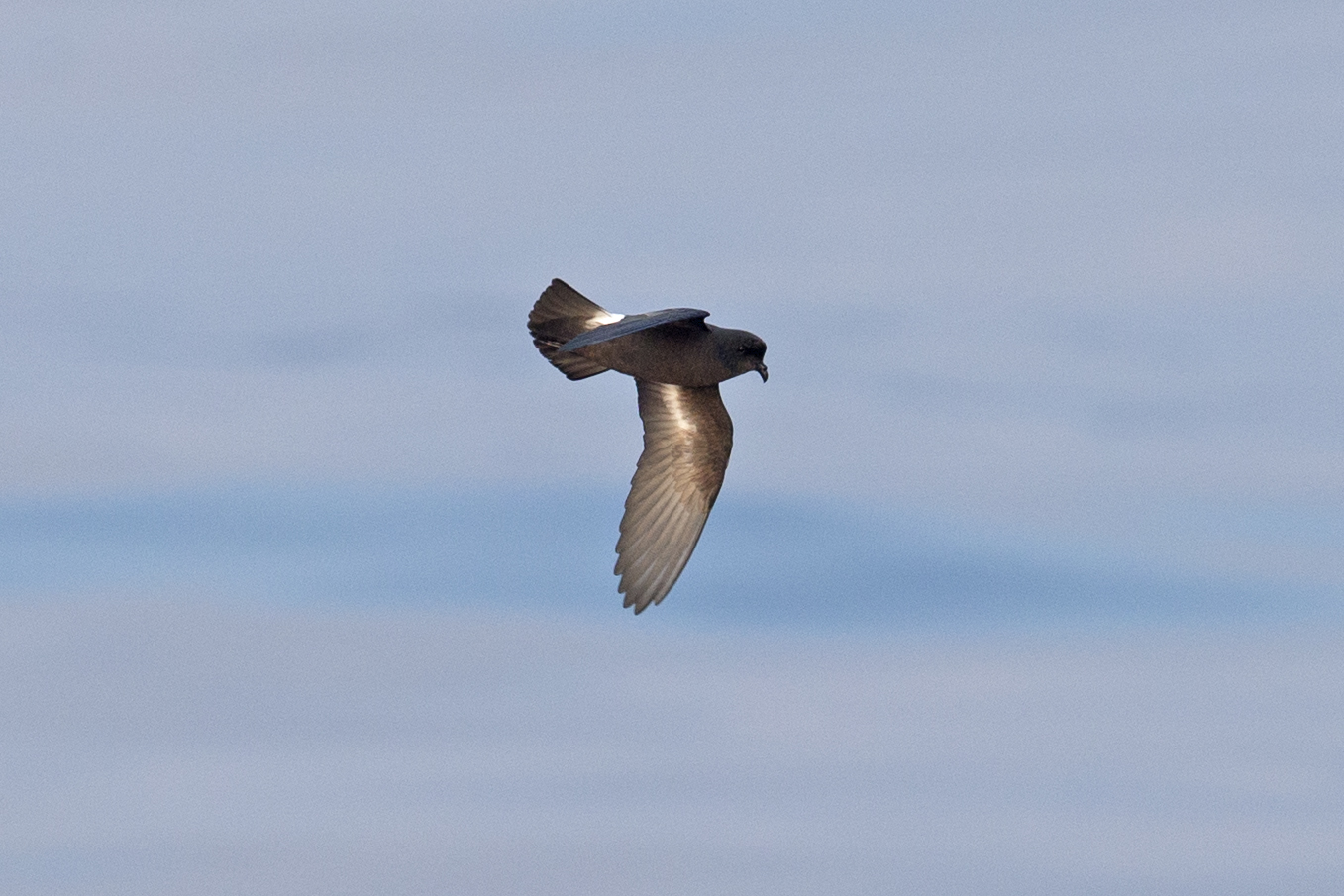 European Storm Petrels are ubiquitous in Scillonian waters and are easily separated from the rarer Wilson's by their busy, restless flight action (Joe Pender).
Large numbers of Short-beaked Common Dolphin and some Bottlenose Dolphin moved into Scillonian waters in July and were crowd pleasers on pelagic trips in the first few weeks of August. Dolphins fed on fish shoals and many fish swam to the surface in a bid to escape, only to become easy prey for gatherings of Northern Gannets. Opportunist shearwaters and other seabirds joined in to form feeding frenzies.
Seabird frenzies around feeding tuna are a true spectacle and one of the wonders of the ocean. The Critically Endangered Atlantic Bluefin Tuna arrived in good numbers in Scillonian waters in August for the second year in a row. During the last century, they were hunted to near extinction around Britain and Ireland. Recent signs suggest that a recovery is under way, with the fish originating from either the Mediterranean or the Caribbean stocks. These veracious fish often co-operate when hunting small fish, rounding them up into a 'bait ball', then attacking this from all angles. The water 'boils' as thousands of tiny fish leap out of the water to escape the tuna. The mêlée of feeding activity acts like a magnet to nearby seabirds, which gather in their thousands.

From mid-August we found these crazed feeding frenzies on almost every trip. Pelagic goers watched in awe as 'boils' kicked off just metres from the boat. Shearwaters took a share of the bounty: literally thousands of Manx, hundreds of Great and Sooty and, on occasions, also hundreds of Cory's and a few Balearic joined in. Gannets and gulls completed the show – it was carnage at sea! After each massacre the sea surface settled and was covered by shiny fish oil ideal for storm petrels. The sea was a suspension of fish scales and fish debris as deep as could be seen. The scenes were reminiscent of something from David Attenborough's Blue Planet documentary.

As a frenzy died down the thousands of shearwaters, stuffed full of bait fish, sat on the sea forming large rafts; digesting, preening, sleeping, and waiting for the next tuna boil. Some were so well fed that they couldn't fly. Joe manoeuvred the boat alongside the rafts. The confused noise of the feeding frenzy was replaced by the sound of camera shutters in a photo-shoot frenzy. It was a photographer's dream come true.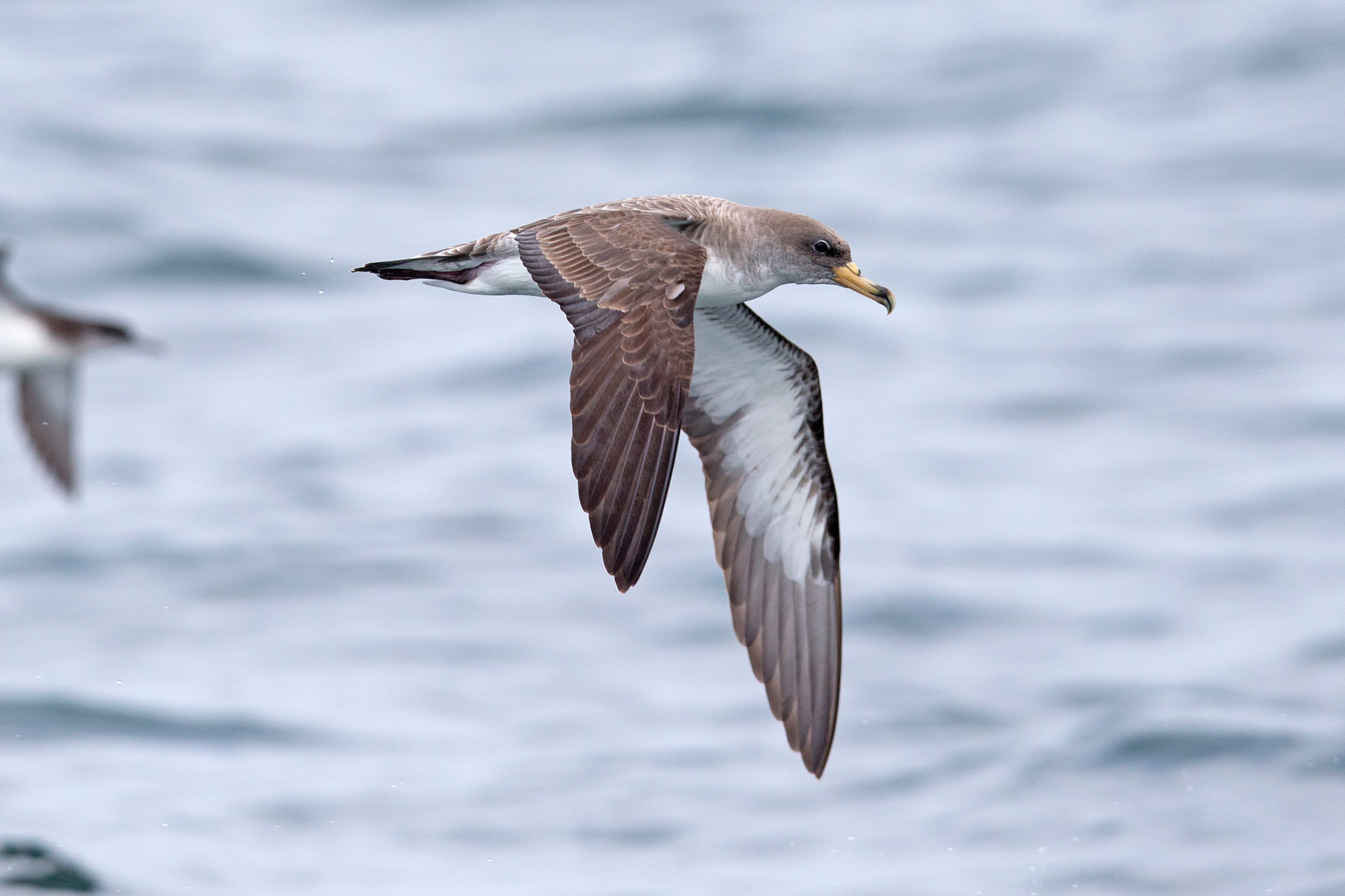 While not seen on all trips, Cory's Shearwaters occasionally showed up in their hundreds (Joe Pender).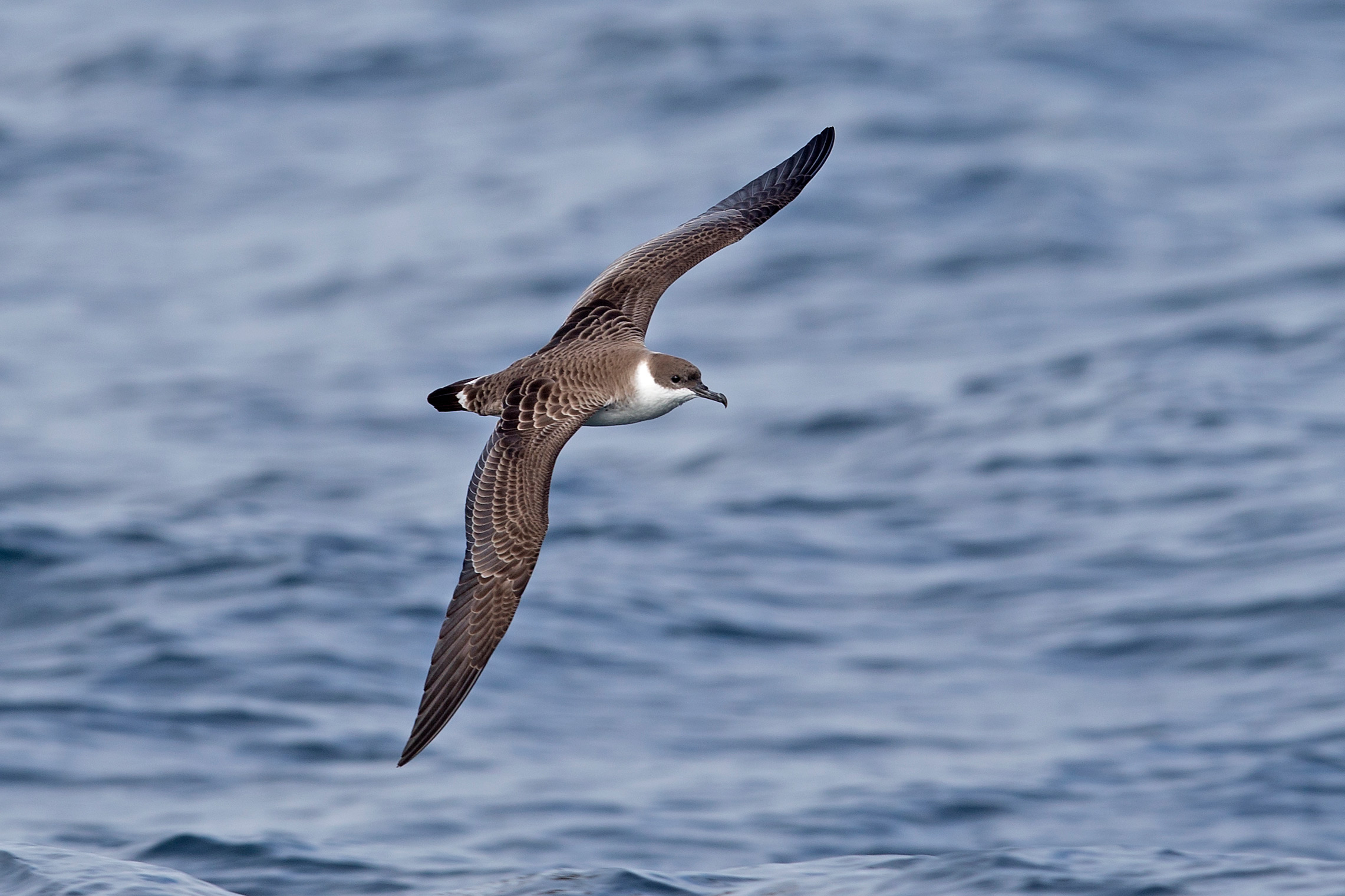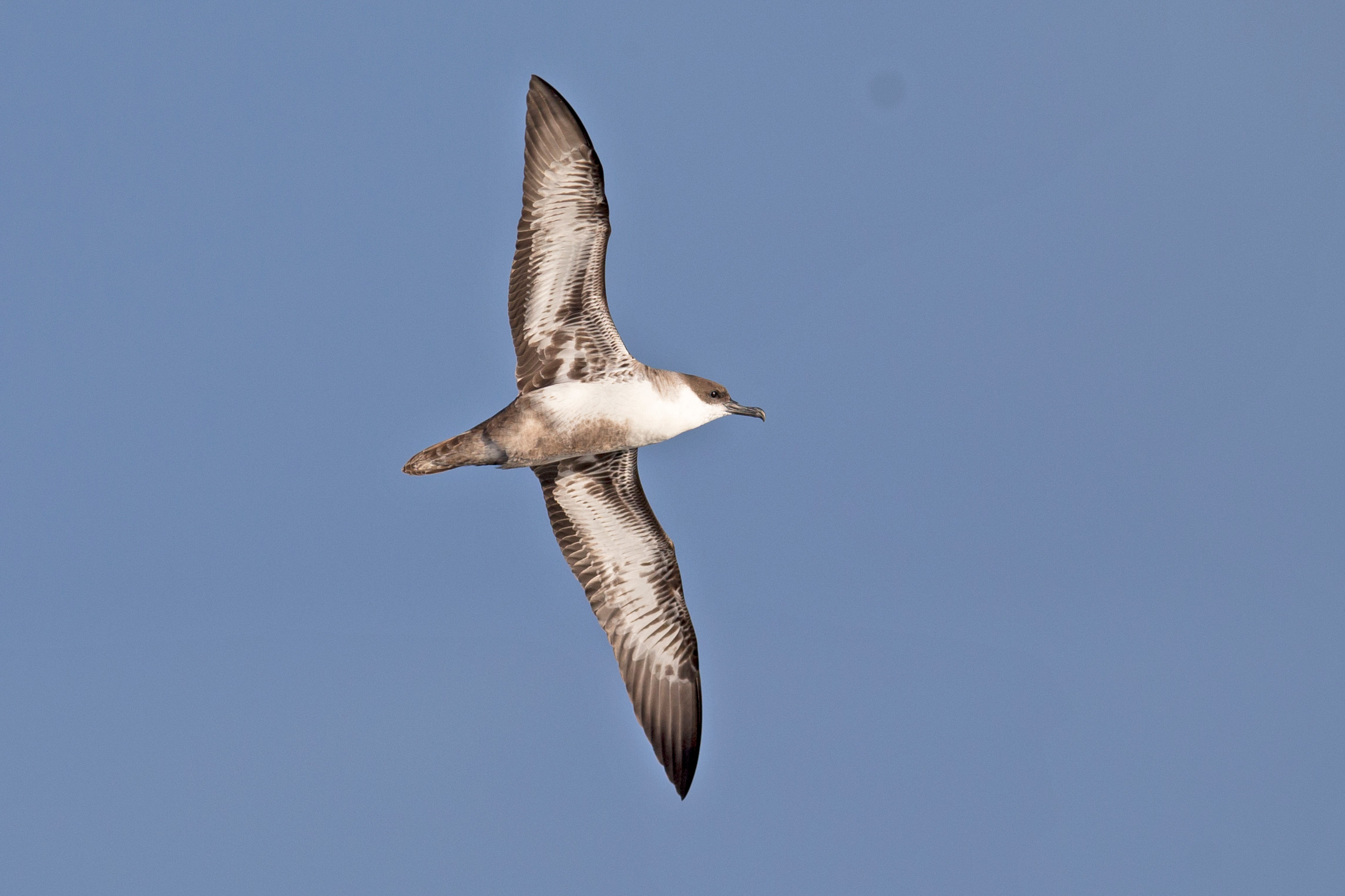 Great Shearwaters are immaculate beasts. This season's total numbered in excess of 2,200 (Joe Pender).
All forms of sea life were abundant this year. Apart from chance encounters at frenzies, our main technique for attracting storm petrels is to drift with chum deployed. Storm petrels are attracted to the boat by the smell of the chum, with this method equally good at drawing in sharks – we saw Blue and Porbeagle Sharks swimming around the boat. Joe and local shark expert Paul Whittaker participate in a shark-tagging program and they caught and tagged some individuals, allowing passengers close (albeit brief) views of a shark on board the boat. It is very sad that these magnificent creatures are killed in their millions each year for their fins in order to make soup.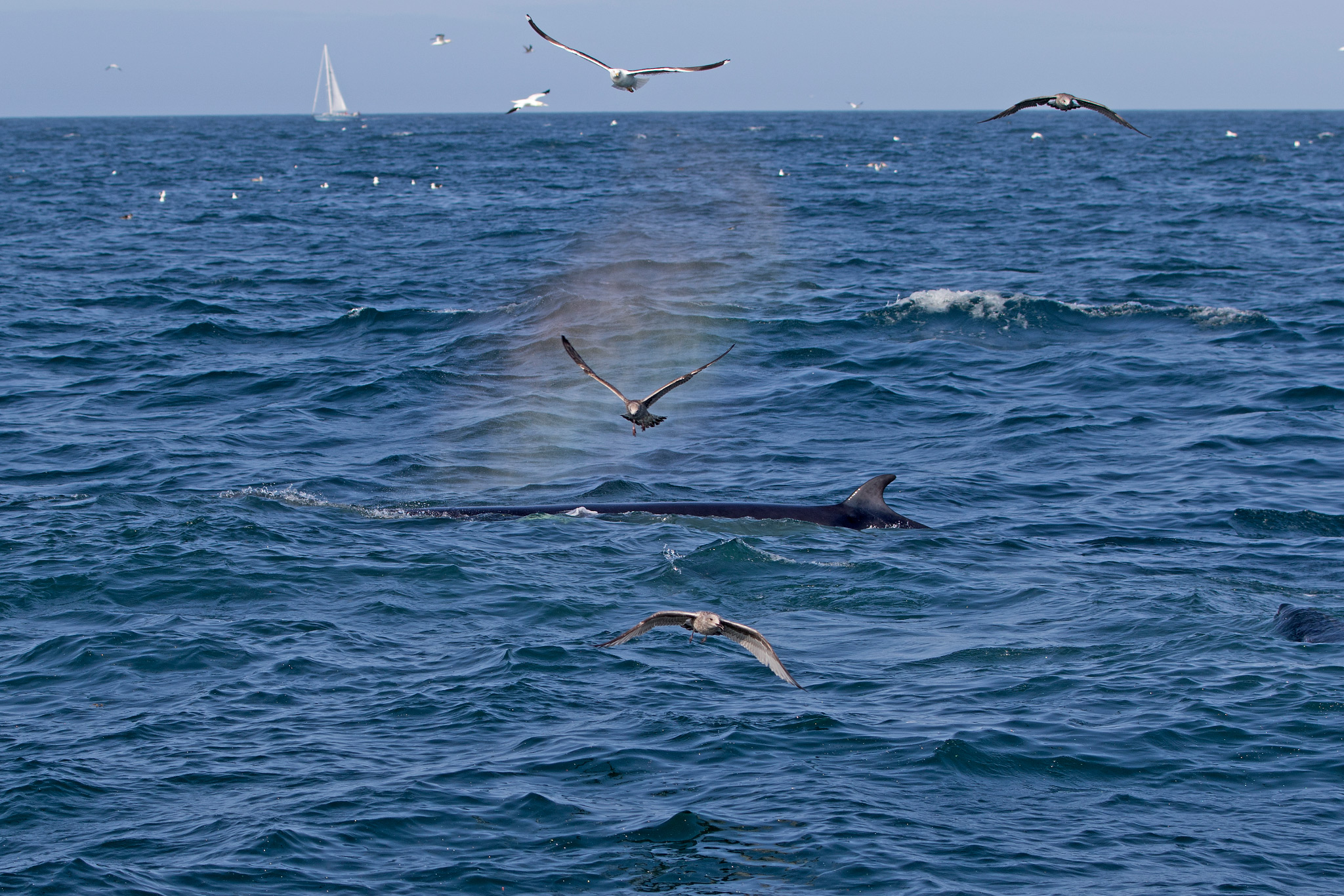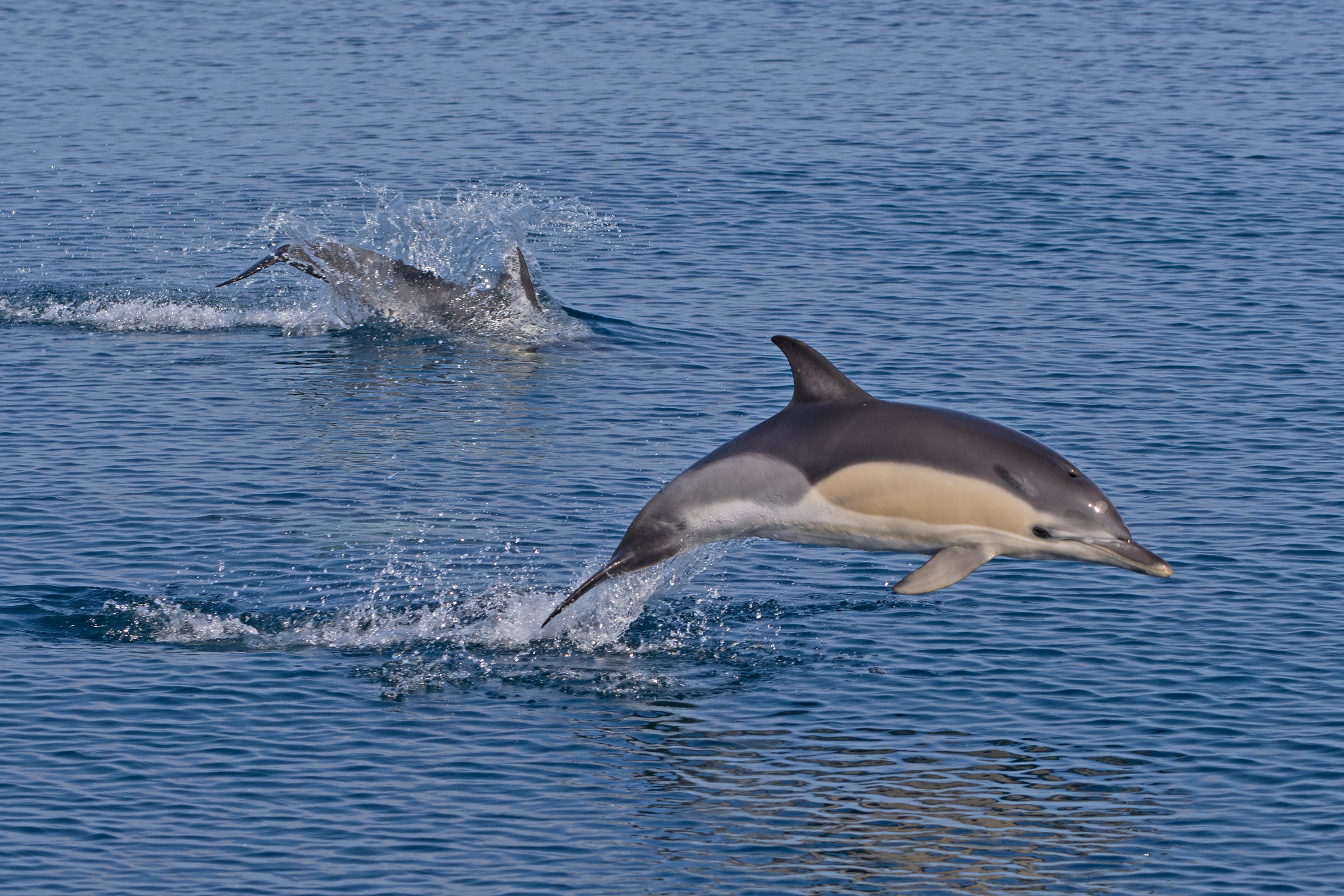 Cetaceans included Minke Whale (top) and Short-beaked Common Dolphins.
Another seabird that featured on the pelagic trips was Grey Phalarope. Small parties were occasionally encountered, normally feeding around seaweed. All were adults in transformational plumage, with some showing remnants of their red summer plumage.
While the Sapphire steamed around, Jim chummed off the back of the boat, keeping an attendance of ever-squabbling, squawking gulls. Gulls feeding behind the boat simulates a trawler and indicates food, which draws in other seabirds. Great Skuas frequently powered in and relentlessly attacked the gulls; a few Arctic Skuas also harassed them, although a Long-tailed Skua was stand-offish. From mid-August, Sabine's Gulls appeared at point-blank range to check things out, including four smart adults on one day.
Seabird totals for the August 2018 pelagic trips were impressive. As well as a total of 54 Wilson's Storm Petrel, shearwaters included 380 Cory's, 2,240 Great, 840 Sooty and 14 Balearic, while skuas counts were 80 Great, three Arctic and one Long-tailed. We also had seven Sabine's and a single Little Gull. Other wildlife included five Minke Whales, 800+ Short-beaked Common and 20 Bottlenose Dolphins, plus 15 Blue and three Porbeagle Sharks. As you can imagine, there was rarely a quiet moment!
August also produced a fine cast of species on the islands to keep birders busy between the pelagic trips. Star birds were Baird's and Solitary Sandpipers on Tresco, as well as a juvenile Citrine Wagtail on St Mary's.
Thank you to our 200 or so pelagic friends who came to the fortunate isles with anticipation and hope, and who surely returned home with memories to last a lifetime. August 2018 was truly a vintage Scilly pelagic season.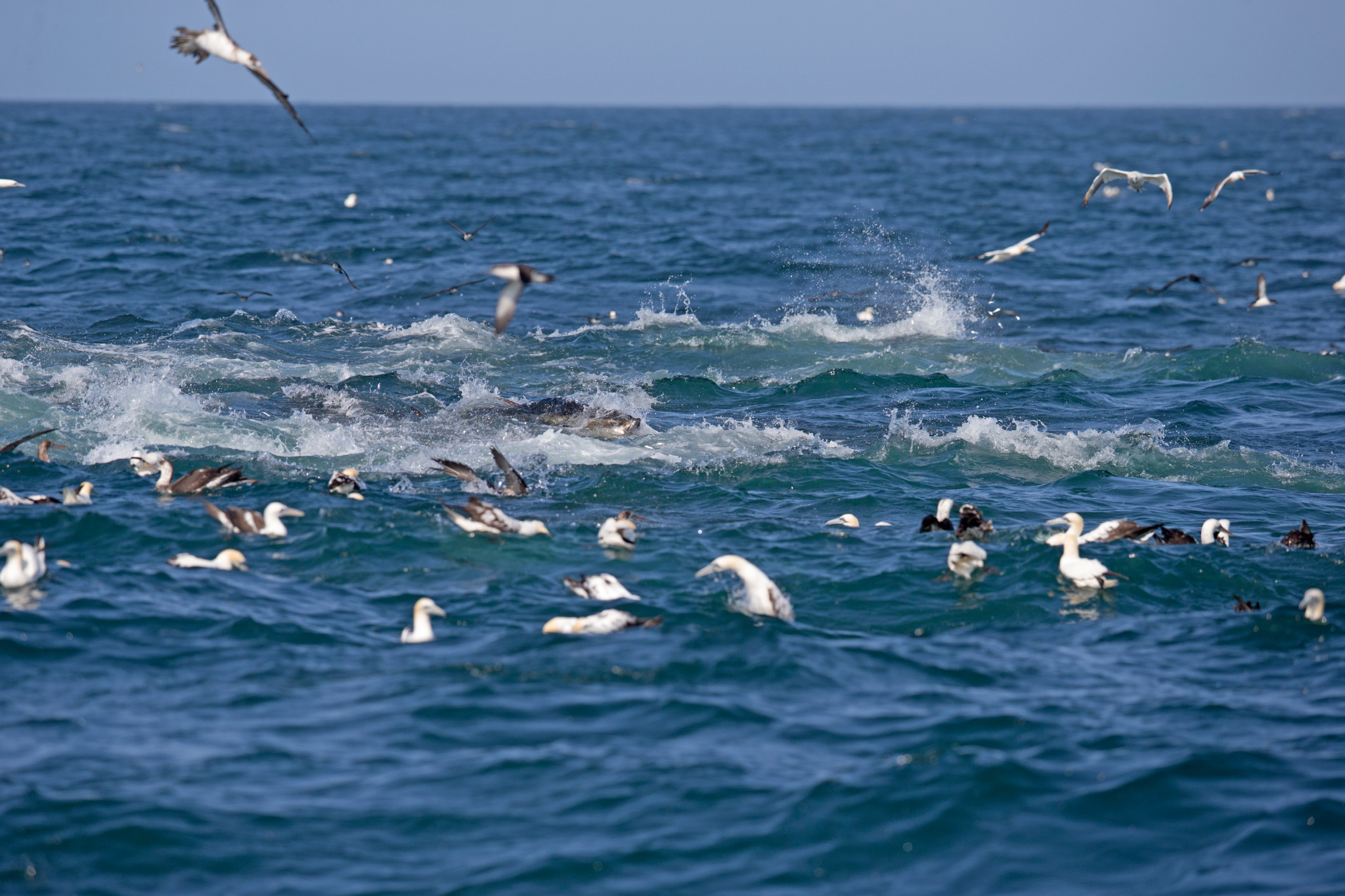 Feeding frenzies involving Atlantic Bluefin Tuna and thousands of seabirds were a regular sight in Scilly waters for the second summer running.
More videos