Of course, 2020 was by no means a normal season on Fair Isle. Apart from the obvious, the island was also sadly without an observatory building for another year. However, this didn't detract from the amazing experience I had living and working on the isle for five months. Besides, what better place to be during a pandemic than the most remote inhabited island in Britain?
The first national lockdown put a stop to the rangers and assistant wardens' scheduled arrival in April, so it was an eager couple of months' wait for the seasonal staff. With the gripping spring bird news peaking at Song Sparrow, and the seabird season rapidly progressing, it was a major relief for Alex, Georgia and I to eventually arrive on Fair Isle at the start of June. It was all go once we arrived and we were quickly trained up and sent out into the field, wasting no time on playing catch-up with the seabirds. Despite missing the bulk of spring migration, we managed to jam in on the back end of some belting south-easterlies, which continued right into June and produced what turned out to be an unforgettable first week on the isle.
Having taken the morning flight to Fair Isle on Monday 8 June, we were greeted off the plane by David Parnaby, before heading down to South Light (our digs for the season) – what a place to be living! We were soon out exploring and one of the first birds found was a stonking adult Rosy Starling. This was quickly followed by a newly arrived male Red-backed Shrike; a sign of good things to come. We spent the rest of the day walking the full length of the island, to North Light and back, tallying up a cracking list of birds including a male Citrine Wagtail, a further four Red-backed Shrikes and two Icterine Warblers, as well as taking in the amazing scenery and breeding seabird spectacle for the first time.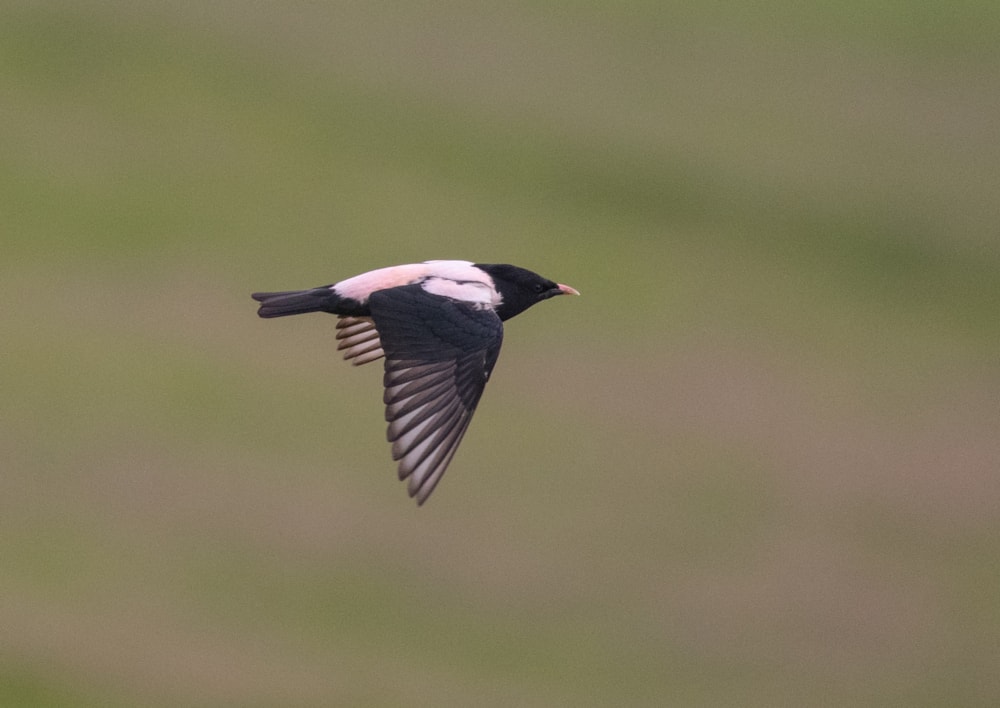 Rosy Starling was one of the first scarcities Dan encountered on Fair Isle (Dan Gornall).
The following day, Alex got the rarity-finding season off to a flyer with a River Warbler showing incredibly well in Meadow Burn. The good birds continued to trickle through over the next few days, with a couple of singing Marsh Warblers around, Red-breasted Flycatcher on 11th, Thrush Nightingale on 13th and Greenish Warbler on 14th. Little did we know, however, things were about to get even brighter …
Tuesday 16 June was an absolutely magical day on the isle, with bright blue skies and temperatures soaring to 15 Celsius. We had spent the morning completing Guillemot and Northern Fulmar productivity/population plots, before planning to meet David and head into the Arctic Tern colony. He had kindly swung by the shop to grab us some ice creams, but of course you should always expect the unexpected on Fair Isle, and before long we had received a message about an elusive wing-barred Phylloscopus at Vailla's Trees (a small plantation outside the shop). This was shortly followed by "it just showed – Green Warbler!".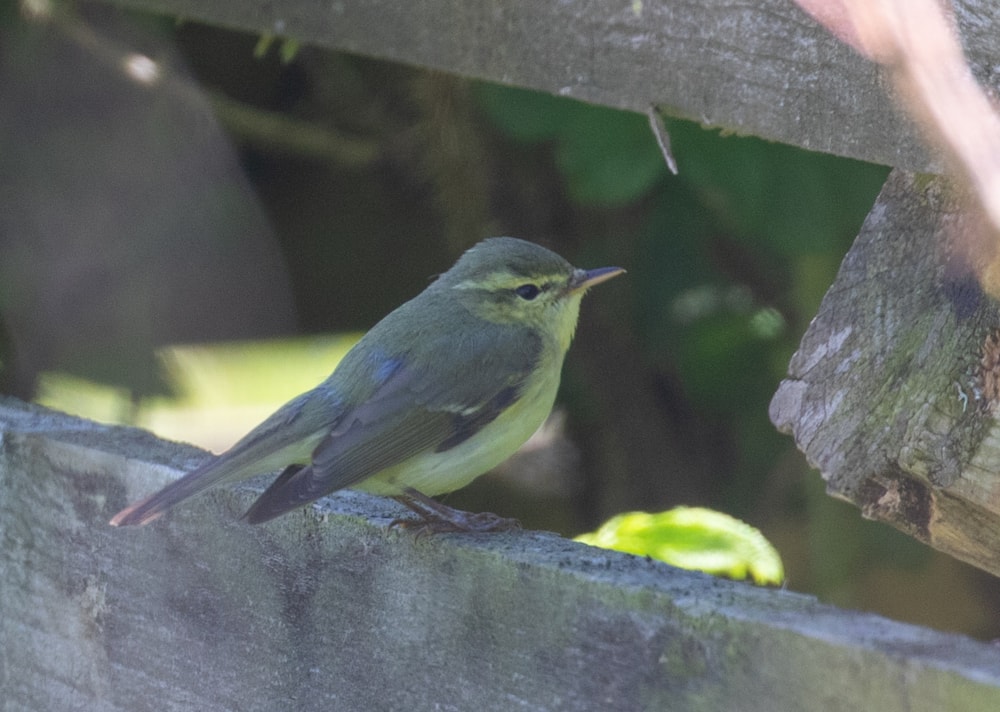 Britain's eighth Green Warbler was one of the summertime highlights (Dan Gornall).
We raced down and the whole team was soon enjoying great views of this eighth for Britain in the glorious sunshine. Seabird monitoring was resumed and, to round off the day, we had an unforgettable encounter with 14 Orcas that toured the south coast as the evening sun slowly went down – bliss! How many people have seen Green Warbler and Orca in the same day?
David added to his mega tally with a Calandra Lark on 22nd, but the spring didn't quite end there; Bluethroat, Common Crane and a spring male Barred Warbler all put in appearances over the following week. With the bulk of migrants having already passed through at this time of year, an amazing proportion of new arrivals during this period are in the rare and scarce category, with a Booted Warbler on 30th seeing out the month and being one of just five warblers on the island that day.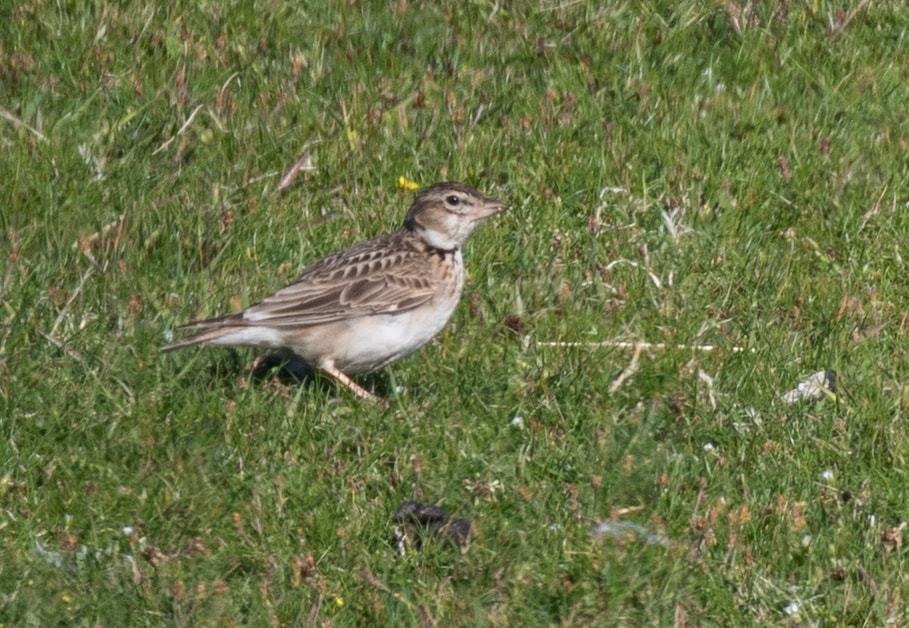 The June megas kept coming, with this Calandra Lark on 22nd (Dan Gornall).
The summer months were largely dominated by seabird monitoring and we had our work cut out making up for lost time at the start of the season. Days were spent wandering through skua colonies, mapping nests and ringing chicks, monitoring various plots of Kittiwake, European Shag, Guillemot, Northern Fulmar and Northern Gannets for population and productivity data. The changeable weather means you really have to make the most of good days on the island.
On one such nice day at the start of July, we embarked on a 24-hour stint in the field (with some food breaks of course). It started on Toor o' da Ward at Hill at 5 am collecting fish samples from Puffins, followed by a visit to some Arctic Skua nests around the Mast, a chick ringing trip to both the gull and Arctic Tern colonies, before, after a refuel, we headed out at dusk for the first European Storm Petrel ringing session of the year. Speaking of which, it turned out be a great year for storm petrel ringing with a total of some 1,234 new birds, along with nine Leach's Storm Petrels. It was a positive seabird season in general, with an apparently plentiful supply of good-sized fish being brought in by adults. Arctic Terns, Arctic Skuas, Kittiwakes and European Shags all had their most productive breeding season for a while – the best since the 1990s in some cases.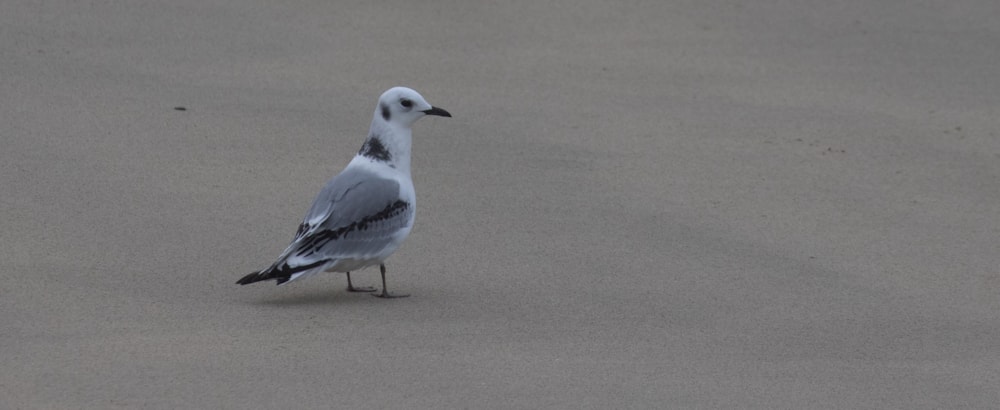 Breeding seabirds, including Kittiwake, had good nesting seasons (Dan Gornall).
Autumn census kicked off at the start of August and we were raring to get stuck in after missing out in spring. The month generally lacked any big falls of migrants, but we racked up a nice list of scarcities, with classic drift migrants such as Icterine Warbler, Red-backed Shrike, Common Rosefinch and Barred Warbler all being represented in decent numbers. Other August highlights included Fair Isle's fourth Mediterranean Gull on 15th, an incredibly showy Western Bonelli's Warbler on 23rd and a Thrush Nightingale at Utra on 28th, the latter two of which kicking off the autumn run of BB rarities.
The onset of September and the thought of October fills with the island air with excitement. Huge numbers of migrants pass through the island meaning no two days are the same, along with constant anticipation of not knowing what the next day will bring. The first half of September was predominantly westerly dominated and two Pectoral Sandpipers graced Easter Lother Water. On 15th, we got our first Yellow-browed Warbler of the autumn – always a significant day and it had us rubbing our hands together for weeks ahead. The following day brought a Little Bunting ahead of what turned out to be a record autumn for these lovely birds on the isle: no fewer than 15 were recorded.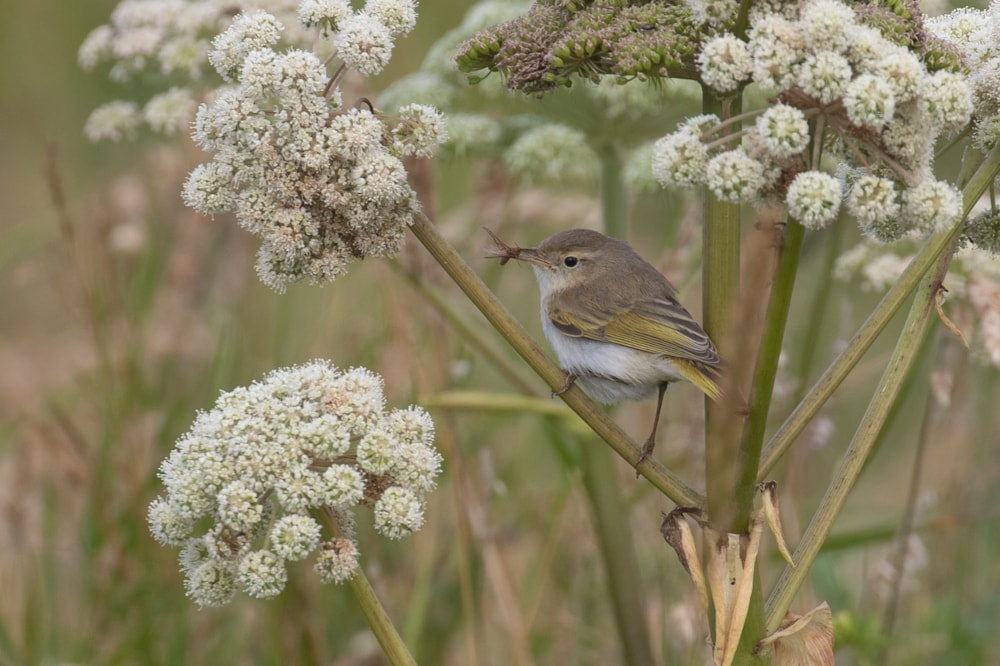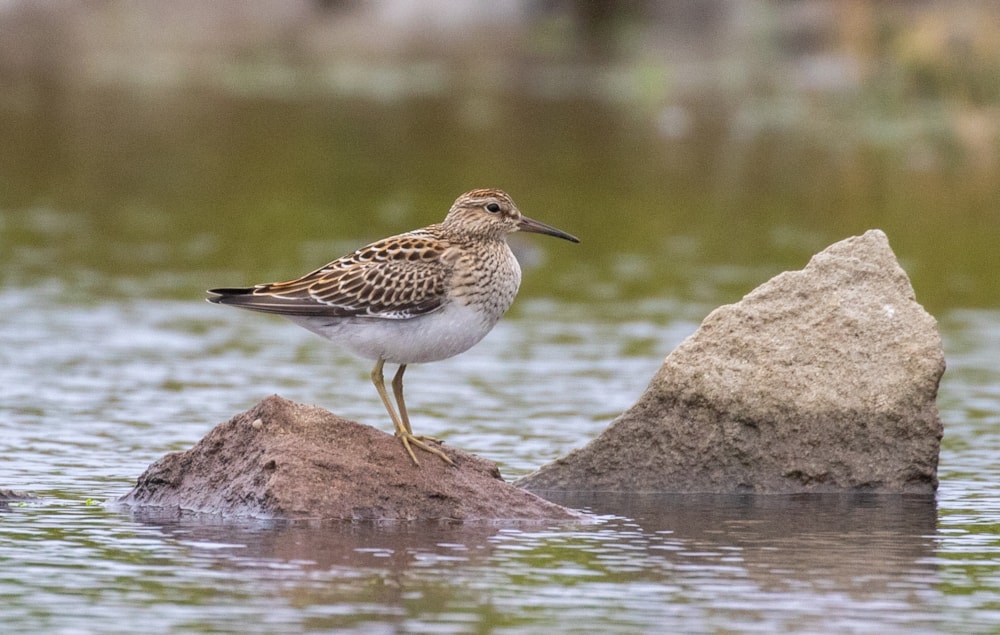 August and September saw Western Bonelli's Warbler (top) and Pectoral Sandpipers make landfall on the island (Dan Gornall).
Things were really starting to hot up in the later part of the month. Rather unexpectedly, gale-force northerlies on 26 September brought the first two migrant Blackbirds of the autumn, along with a White's Thrush. Perhaps more predictable on the back of these conditions were a very confiding pair of Hornemann's Arctic Redpolls that arrived the same day.
My growing addiction of checking the weather charts certainly peaked during October and a mouth-watering system that had been brewing many miles east cast our minds to South-East Asia. It finally hit the UK at the start of the month and with it delivered a cracking spell of birding. It started on 1st with the second White's Thrush of the autumn, along with a Rustic Bunting, Spotted Crake, Red-breasted Flycatcher, Hawfinch, two Common Rosefinches and five Yellow-browed Warblers.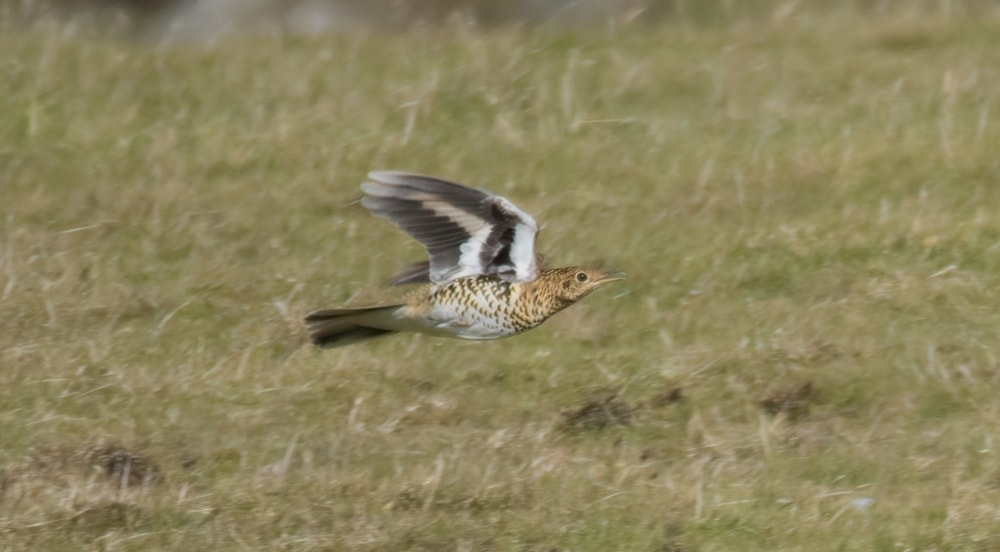 Fair Isle scored no fewer than two White's Thrushes in early October (Alex Penn).
Friday 2 October was a memorable one, purely for the spectacle of migration and the sheer number of common migrants. My bedroom window was rattling all night in the gale-force south-easterlies. The morning trap round revealed at least 20 Blackcaps in the lone pine tree standing in Gully and the island seemed to be absolutely buzzing with birds. I had landed myself on north census and, after walking up Hill Dyke, I got to the top and peered into the geo at Gunnawark. The cliffs were alive with migrants! A carpet of Blackcaps, European Robins and Goldcrests were all along the west cliffs as birds sheltered in the strong winds – a sight I'll certainly never forget.
Final totals that day included 301 Blackcap (the second-highest Fair Isle count), Booted Warbler, Rustic Bunting, Citrine Wagtail, three Little Buntings and five Red-breasted Flycatchers putting in an appearance. In such a large fall of migrants come expected rarities, although they're significantly more difficult to find and it was certainly one of those days that felt like there was something big lurking out there.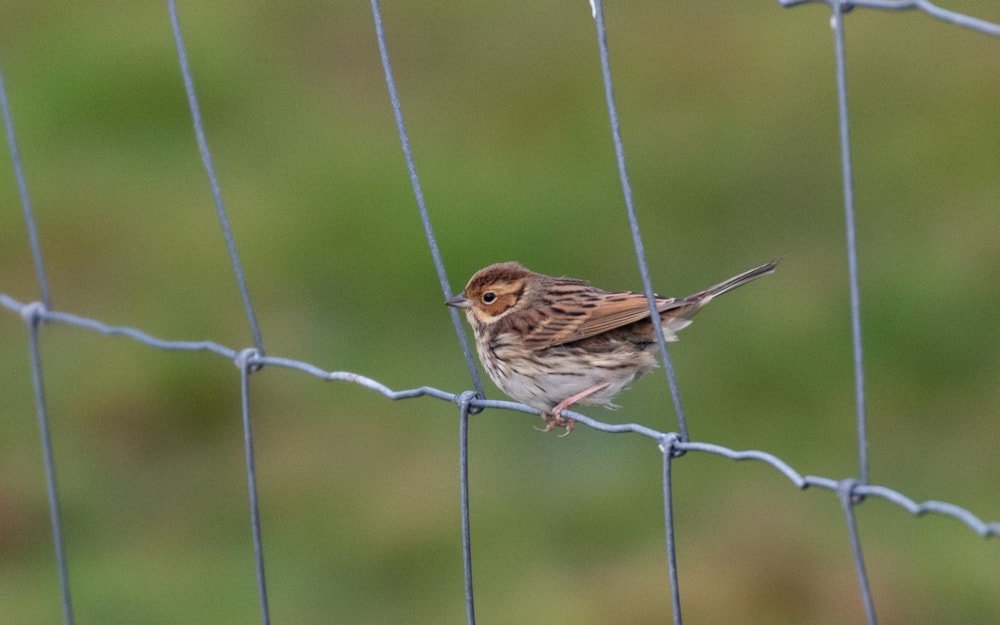 No fewer than 15 Little Buntings were recorded during the autumn (Dan Gornall).
A White-tailed Eagle picked up coming south from mainland Shetland by Georgia on 9th proved a spectacular sight as it toured the island, allowing just about everyone present to connect with it. We also managed to get in on some of mainland Shetland's tit action with at least four Great and two Blue Tits turning up during the month.
A great duo appeared on 10th, in the form of a Siberian Stonechat (becoming just the second confirmed maurus out of 48 'eastern' stonechats on the isle) and Red-throated Pipit. Another on appeared on 14th, along with Dusky Warbler and Red-flanked Bluetail – both the first of two during the autumn. A Brown Shrike around Naaversgill on 15th was a memorable find for me and made for a truly epic bird-landscape combination as it roamed the rocky slopes, flushing thrushes on its way. Finally, David scored himself three beers, getting the whole team a lifer with American Buff-bellied Pipit on 28th – a great bird to round off a brilliant autumn.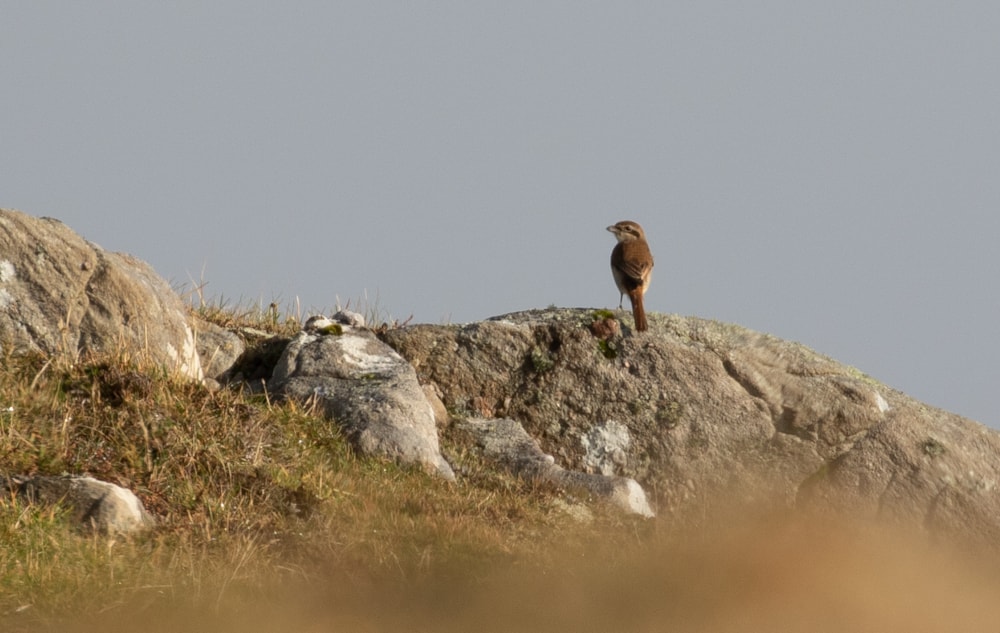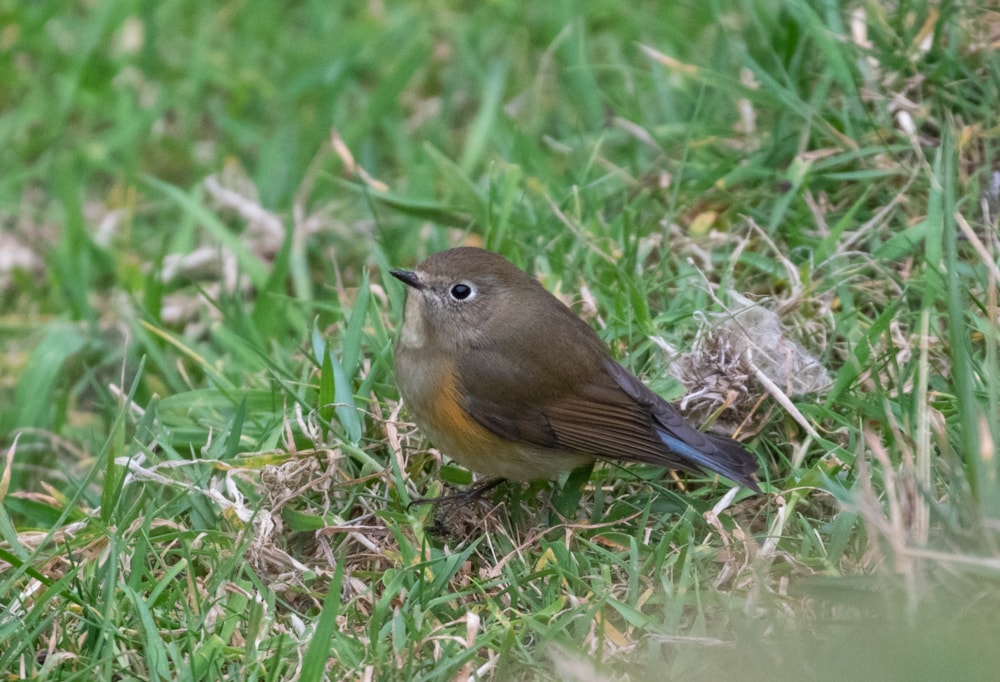 Self-found Brown Shrike (top) and a showy Red-flanked Bluetail were fond October memories (Dan Gornall).
We're all coming back for another season in paradise in 2021 and I speak on behalf of the whole island when I say we sincerely look forward to welcoming visitors onto the isle in the (hopefully) not too distant future, as and when the pandemic situation allows. It's an exciting time, with the observatory rebuild edging closer. You can keep up to date with the progress by checking out the website (www.fairislebirdobs.co.uk) and socials (Facebook and Twitter).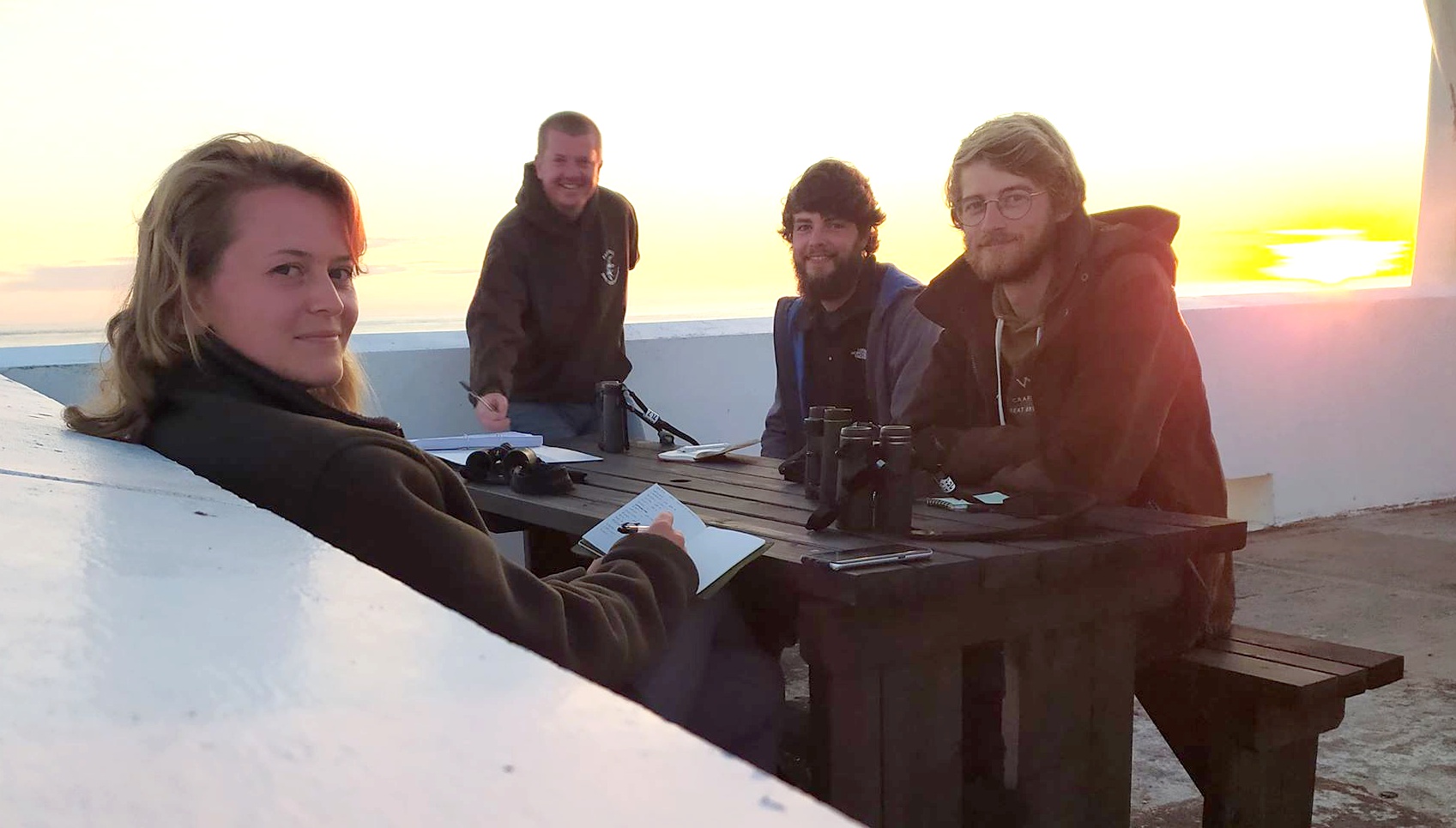 The observatory team go through a day's field notes at sunset (David Parnaby).