In central China, beyond the most easterly peaks of the Himalayas, the vast Tibetan Plateau just bleeds into the north-western corner of Sichuan Province. The plateau connects to the Hengduan and Qionlai Mountain ranges and below them, even further east, lies the lowland Sichuan Basin. Sichuan is at the heart of the region covered by the Oriental Bird Club and, for many years, birders have visited its bird-rich mountains, grasslands and forests. Andy Mears describes here a few hours of birding in the province when everything just seemed to go right.
Just before dawn, on a day in mid-May, our group of five OBC members headed off of the Tibetan Plateau near the town of Rouergai and down towards a secret valley — Sid Francis, Chris Gooddie, Gavin Maclean and Troy Shortell were my companions on this trip. From above, the valley appeared to be full of mist, and an edgy atmosphere pervaded our van. As we descended, however, we passed through the gloom and at first light, were relieved to find ourselves overlooking steeply sloping, evergreen forests and valley-bottom meadows on a fresh, spring morning. Blue Eared-pheasants were known to frequent these meadows in the early mornings and we'd waited no more than a couple of minutes before clattering wings heralded a fine pair of these beautiful galliformes. They landed squarely in the middle of the meadow below us and immediately looked nervous as they realised they had an audience. Even in the dawn light, their saturated inky blue plumage, pristine white whiskers and red and black heads were vivid. So many of the birds in Sichuan have a truly oriental look — undoubtedly borrowed by humans over thousands of years — and this species is certainly one of them.


Blue Eared-pheasants at Baxi pushing the Nikon to its limits in the dawn light (Troy Shortell)
With a challenging day ahead, we wasted no time and as soon as the Blue Eareds had slinked away, we moved further down the valley, briefly seeing Plain Laughingthrushes and a couple of Common Pheasants en route — the pheasant being native here and lacking a white neck ring. Colourful Kessler's and Chestnut Thrushes were singing and occasionally conspicuous, while Elliot's Laughingthrushes and White-throated Redstarts were numerous. We entered the forest and in no time another of our targets was calling from trail-side scrub, Sukatchev's (or Snowy-cheeked) Laughingthrush. It would take a full three hours before we'd all engineered good views of this dastardly skulker. Sukatchev's Laugher has a tiny world range and it would have been annoying if even one of us had missed this beautiful buff and grey species with its neat black and white face pattern.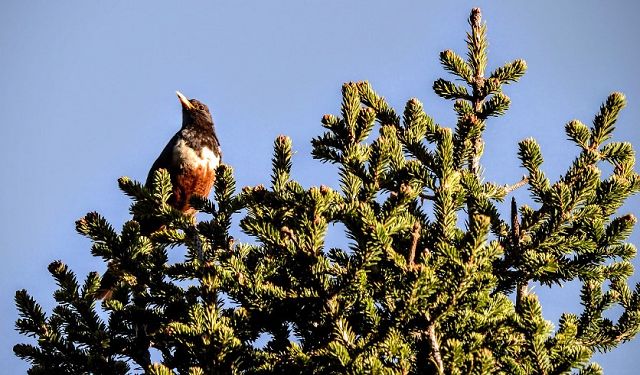 The impressive and beautiful Kessler's Thrush (Troy Shortell)
Check a suitable field guide or monograph and you'll see that Sichuan hosts an intriguing set of species that appear to have been airlifted in from the northern Boreal forests. Patient birding in Scandinavian forests, or indeed many areas to the east, may lead to sightings of Hazel Grouse, Siberian Jay, Ural and Tengmalm's Owls, or Three-toed Woodpecker. These birds can also be found in an isolated region of central China but in slightly different guises. Some have evolved into separate species over the millennia — Chinese Grouse, Sichuan Jay and Père David's Owl respectively — but others have remained doggedly unchanged, at least to our eyes and ears. Sichuan's Tengmalm's Owls and Three-toed Woodpeckers have not been split, for example. The range of Black Woodpecker may well hint at the last geographical link between these northern and southern populations...
Our magic valley hosted at least two of these enigmatic forms and we searched hard for both Chinese Grouse and Sichuan Jays. Success came fairly quickly with the grouse as a pair ran off ahead of us across the relatively open forest floor. They were loath to fly but adept at keeping just far enough ahead to deny us clear views, and eventually, they retreated to a hazel-filled gulley. Persistent efforts were rewarded, however, and before we left the forest, we'd all managed to see them well. A far better result than the several failed attempts I've made to see Hazel Grouse in Europe.
Just as we were resigning ourselves to trying a different site for the jay, Troy noticed a dark shape swoop silently through a gloomy clump of firs. A few minutes later, we were able to confirm our target and before long, two Sichuan Jays were perched up and showing well. Over the next 20 minutes, they variously fed on the ground, exhibited curious courtship behaviour and quietly sat on branches peering quizzically down at us. They were just as fascinating as their Siberian counterparts.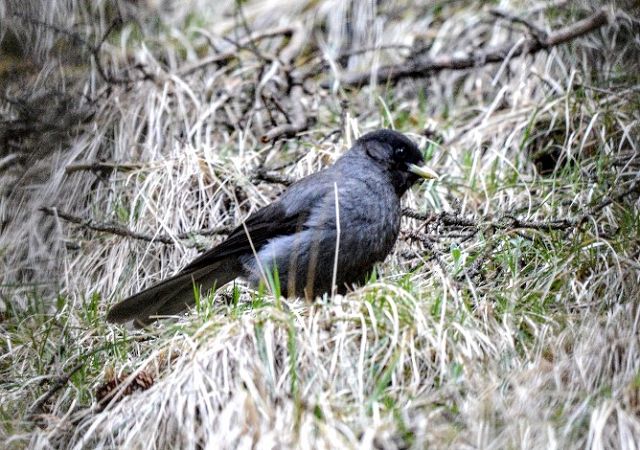 Sichuan Jay (Troy Shortell)
Content continues after advertisements
A quick stop at the head of the valley provided lovely views of a pair of calling White-browed Tits, quite an unusual species to my eyes with its super-long and thin supercilium. It was now mid-morning but we'd seen all our valley targets well and seemingly in record time. Since our trip was compact, and there was little slack in our itinerary, we headed back up to the plateau to try to finish a job started the previous afternoon. As we'd driven across the grasslands, we'd taken the opportunity to quickly 'bag' some of their best birds. Many Black-necked Cranes were impressive and a dancing pair stole the show; Ruddy Shelduck, Bar-headed Goose, Oriental Skylark, Eastern Black Redstart and Daurian Jackdaw all drew attention. An Azure-winged Magpie reminded us of yet another world-range conundrum and great views of breeding Przevalski's Finch left us wondering about its mysterious family lineage. Perhaps most charismatic were the Hume's Ground-tits we saw bouncing across the short turf — just great little birds. It was now time to finish off the grassland birding.
White-browed Tit (left) in the mid-morning sun (Chris Gooddie) and Przevalski's Finch (right) perching up after a wintery shower (Troy Shortell)
A single Tibetan Snowfinch (aka Black-winged) had been welcome near the Przevalski's gulley but today we quickly scored several snowball-like White-rumped Snowfinches and a colourful, confiding Rufous-necked Snowfinch during our first few kilometres on the plateau. The finches fed in areas littered with the burrows of Black-lipped Pikas and Himalayan Marmots, mammals that form the staple diet of a range of grassland predators. Not far from the snowfinches, a Shore Lark was foraging but, try as we might, no-one could spot either Tibetan Fox or Tibetan Shrike.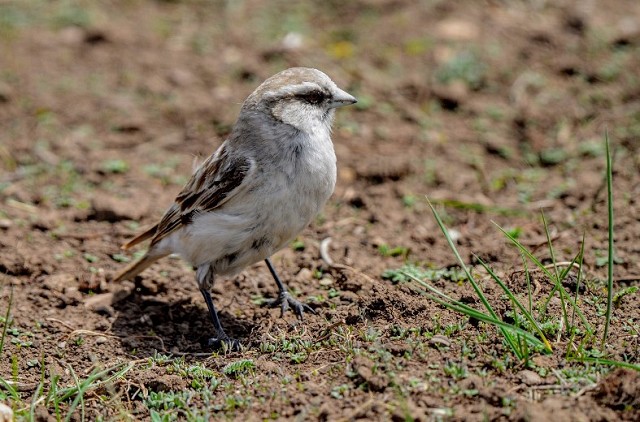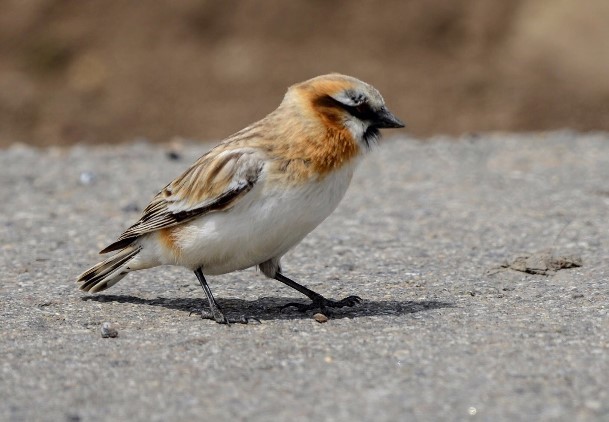 White-rumped (upper) and Rufous-necked Snowfinches, the latter on the road beside our car (Troy Shortell)
We drove on in lovely sunshine, the plateau stretching to distant horizons with rolling hills, and dotted with marshy areas, occasional shallow lakes and the ubiquitous yak-like cattle. Chris called a large falcon that careened behind the van and we all spilled out to watch the first Saker of the trip. It soared, circled, drifted back overhead and afforded magnificent views against a pure blue sky. An iconic tick for me and surely a female, such was its massive size. We later scoped a bird that settled on a close, roadside ridge and Saker was well and truly done. Other raptor highlights during the morning were close, extended views of enormous Himalayan Griffon and Cinereous Vultures, and at the opposite end of the spectrum, a fleeting Merlin.
A walk out into an area of foot-high grassy tussocks and occasional shallow streams had us searching for larks. Common and Whiskered Terns were present plus Black Stork, Common Redshank, more cranes and a few migrant Blyth's Pipits, but a wheatear was a real surprise. A closer look revealed it to be Isabelline, and when it dived down a small burrow, our curiosity was truly piqued. A few minutes later, the wheatear emerged looking furtive and we moved on wondering if this was a breeding record — most unusual if it was. We soon heard the simple, fluty warbles of singing larks and moving closer, easily found two hulking Tibetan Larks quietly feeding in amongst the tussocks. These birds are some 13 per cent larger than Calandra Larks and a whopping 25 per cent larger than Eurasian Skylark.


Tibetan Lark (Troy Shortell)
At this point we'd seen virtually all the birds that the Tibetan Plateau had to offer in this area and were able to plan a move to our next site, the world-renowned Jiuzhaigou Valley. The morning had seemed like buffet birding, where you simply moved along to the next target species, and there it was, on a plate.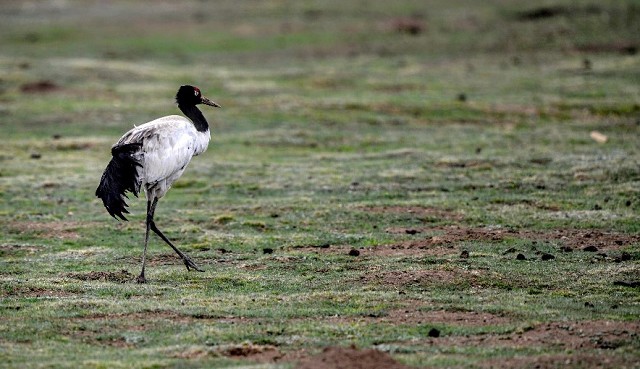 Black-necked Crane (Troy Shortell)
Of course, sessions like this are unusual and you have to welcome them with open arms when they come along. In the afternoon, we tried another local forest area for Père David's Owl but our efforts there were unsuccessful — and that's birding for you.Our tremendous clean-up morning would not be forgotten quickly by any of us, however.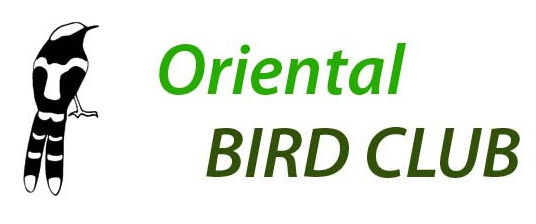 The Oriental Bird Club (OBC) is a volunteer-run registered charity that aims to encourage an interest in wild birds of the Oriental region and their conservation. It seeks to promote the work of regional bird and nature societies, and to collate and publish information on Oriental birds.
OBC publishes their BirdingASIA magazine twice annually; it's a world-class publication covering all aspects of Asian birds, birding and conservation, with plenty to entertain anyone with an interest in Asian birds, including of course UK birders interested in Asian/Siberian vagrants. The OBC also publishes Forktail magazine annually, a respected periodical which focuses on longer and more in-depth scientific papers.
If you'd like a FREE sample copy of BirdingASIA, please just email your home address to chrisgooddie@me.com. There is no postal charge either, and no obligation to join. The offer is open while stocks last, max one copy per applicant.
If you would like to join the OBC to help avian conservation in Asia, please just have a look at the Oriental Bird Club website.