We spend our winters in a small caravan in Spain, sharing our time between the provinces of Andalucía, Castilla y Leon, Caceres and Cantabria. One of the highlights of these extended birding tours is the Strait of Gibraltar. We usually visit the Strait and surrounding area during part of December and again for much of March.
However, 2020 was destined to be a bit different with the onset of coronavirus. As we approached the Tarifa area it gradually became clear that lockdown was a real possibility. With this in mind, we booked into a campsite for three months and hoped. After a week of birding the area, lockdown cam on 14 March. While the campsite was closed to new arrival, those who were booked in could stay.
Our pitch overlooked the Strait, with about 100 m of saltmarsh separating us from Los Lances beach. When the wind has an easterly bias, this area sits directly beneath the flyway used by northbound birds of prey. The campsite is situated immediately east of the mouth of the Río Jara. On the far side of the river, a strip of pine trees extends for a couple of kilometres backing onto the dunes of Los Lances beach. To the north, a range of craggy hills stands just beyond an area of pastureland. These hills are home to many species, some of which were visible from the camp, most notably the ever-present Griffon Vultures.
A decision was made to begin a lockdown bird list. Only birds seen while complying, strictly, with the Spanish lockdown would be counted. In Spain, this was more stringent and restrictive than in the UK – which made things more challenging.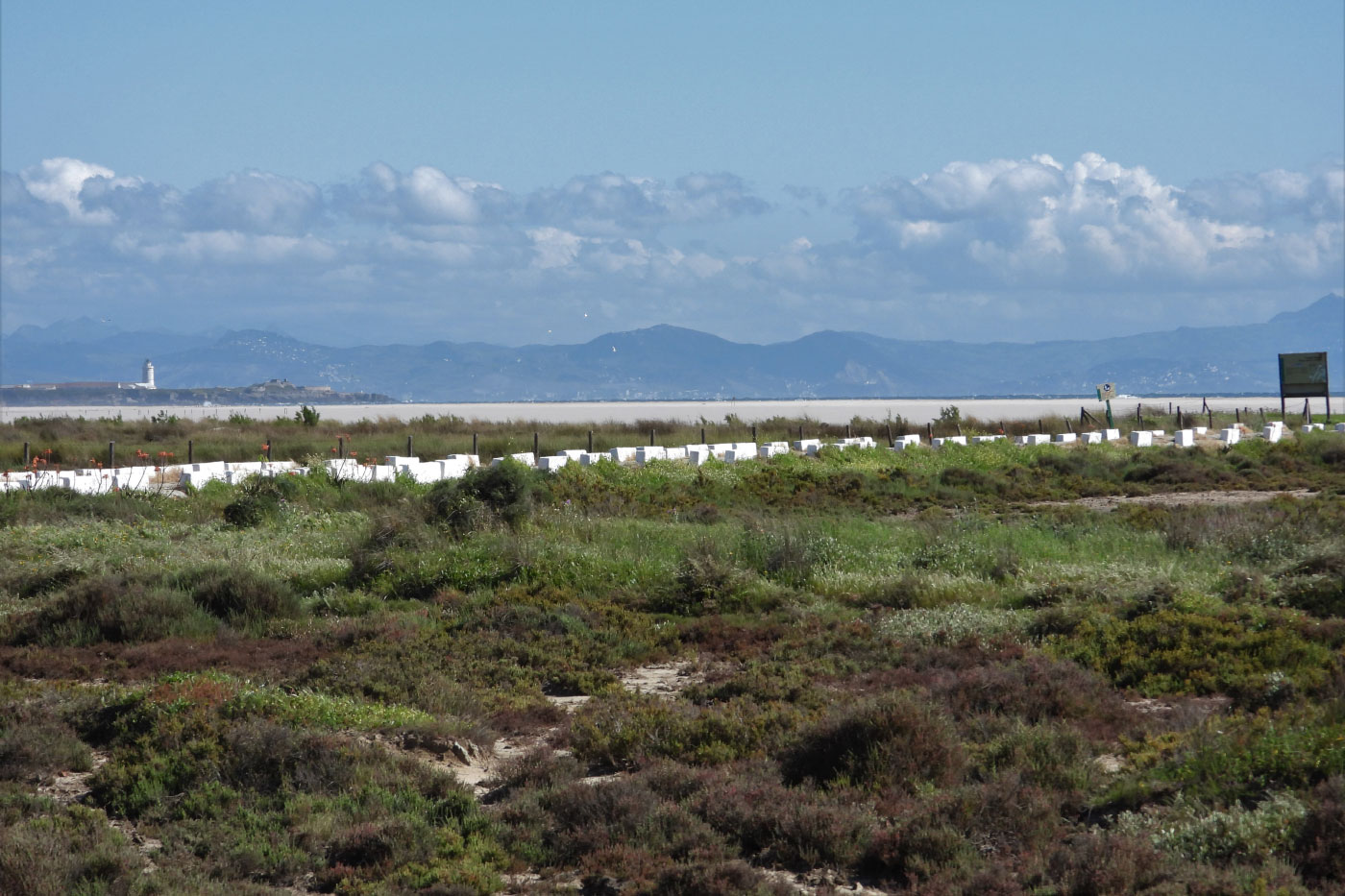 Looking across Los Lances beach from the campsite (Steve Hutchinson).
Late March
Over the period of 14-31 March, we had a real mixed bag of birding days. Although none were without interest, some were simply spectacular. Short-toed Snake Eagles put in an excellent showing early in this period, with a best day count of 670 and, at one point, more than 60 were together over the campsite. These were interspersed with the odd Egyptian Vultures and more than 100 Black Kites. The final days of March also weighed in with huge counts of Booted Eagle: 255 on 25th and an astonishing 421 on 29th. A supporting cast of Black Kite, Black Stork and a few harriers, along with Eurasian Sparrowhawks and a stunning Lanner Falcon made these days very special. Flocks of Yellow Wagtails brought some colour to the saltmarsh and the discovery of a Great Northern Diver just off the beach (and visible from bed!) was a good one. Many hundreds of shearwaters were passing from west to east, mostly Scopoli's.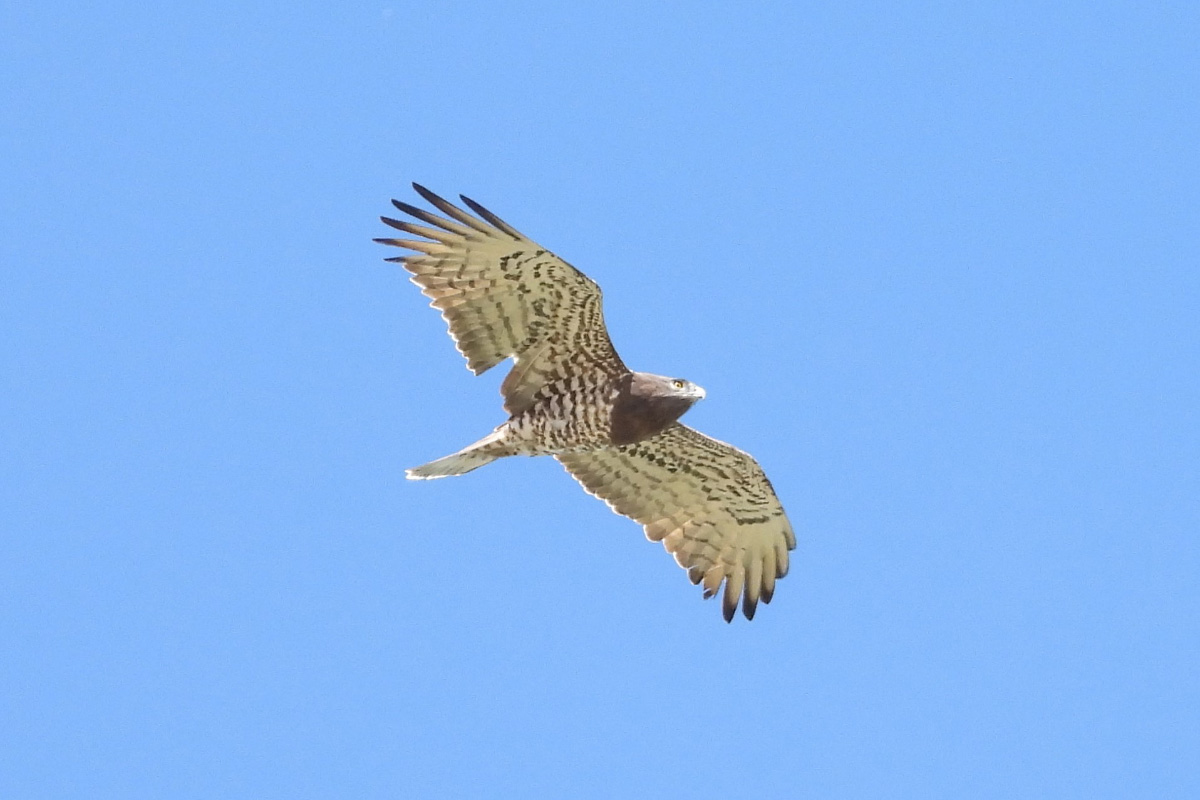 One of many hundreds of Short-toed Snake Eagles seen during the early spring period (Steve Hutchinson).
Life in the campsite was very quiet with so few campers around – and the beach was totally empty. Birds were taking back habitat that is almost permanently denied them by disturbance from windsurfers in normal years. Caspian Terns were always visible and flocks of gulls included a few Mediterranean and some Audouin's were standing about on the beach, and Kentish Plovers had reasserted themselves on the sand. We were often enjoying an osprey hunting over the creeks in the salt marsh and a marsh harrier was an almost permanent fixture, each affording great views.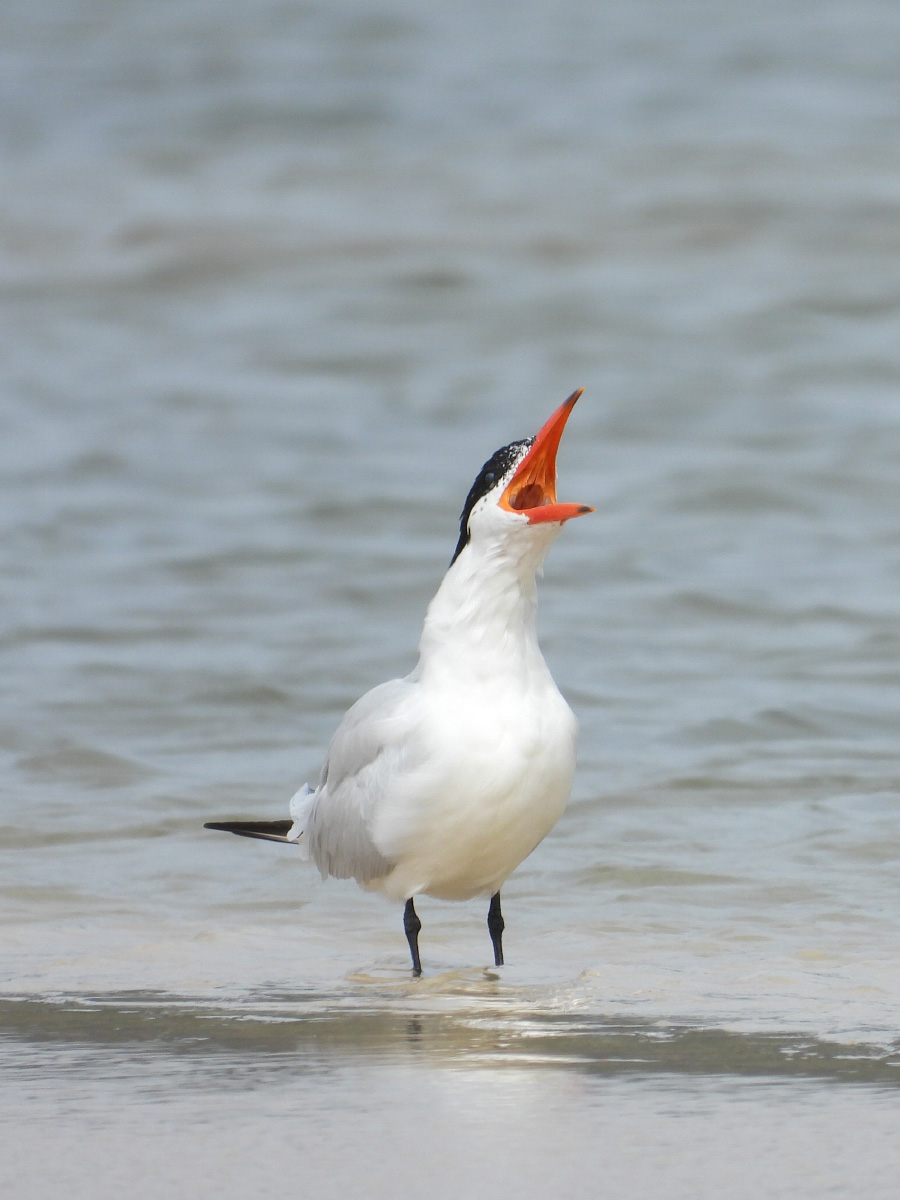 Undisturbed due to the lack of human activity, Caspian Tern was a regular sight along the beach during lockdown (Steve Hutchinson).
April
Life in the campsite under lockdown was, at times, a little mundane and quite frustrating. We knew that migration was happening – but it was just beyond our telescopes and cameras, with the majority passing over further to the east in the area of Gibraltar. That said we were also very aware of – and grateful for – the good days. We also knew that we were in a very privileged position and could think of nowhere better to be birding under lockdown. And, on most days in April, we were still adding to our list.
There was usually something to enjoy and, at the end of the first week of April, the sound of incoming European Bee-eaters and the sight of small flocks of Collared Pratincoles on the beach made for cheery days. A Lesser Crested Tern with the ever-present Sandwich Terns caused us some excitement and a Northern Goshawk hunting over the saltmarsh on a couple of consecutive mornings was rather unexpected. On 14th a Golden Oriole graced us with his presence in the campsite and, with a night visit from a Eurasian Scops Owl gave us some nocturnal enjoyment. By this time, our lockdown list was up to a healthy 111.
Content continues after advertisements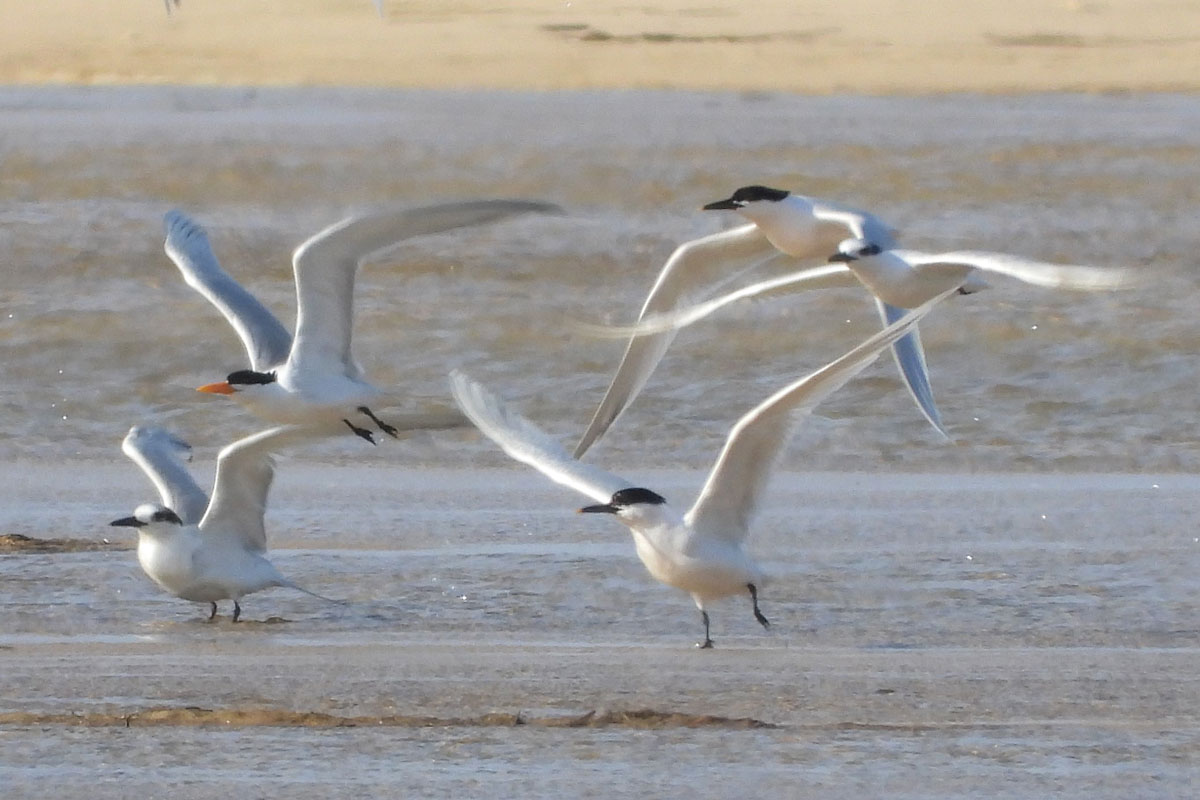 This Lesser Crested Tern was a real bonus for the lockdown list during April (Steve Hutchinson).
We were lucky enough to be on a pitch near another birding couple and sitting in the sun (observing the lockdown restrictions), drinking coffee and talking birds when the skies were empty helped ease the frustration. Plans were being made for the period after lockdown, the birding sites we would visit, the birds we would hopefully find and reminiscences of past successes in the area.
Migrating passerines were proving surprisingly hard to come by. Woodchat Shrikes were present beyond the walls of the campsite, Crested Larks and the occasional sighting of the resident Calandra Larks were welcome. Swallows, Red-rumped Swallows, Pallid Swifts and Eurasian Crag Martins put our camera skills to a daily test (without much success, it has to be said!) but it helped hone our skills and was enjoyable to boot.
On the beach, viewed from our pitch (before 10 am, when the heat haze made observation impossibly frustrating), the waders were making full use of the lack of disturbance. Flocks of Sanderling, Kentish Plover, Ringed Plover and Dunlin bustled about around the mouth of the Rio Jara and were joined occasionally by Black-winged Stilts, European Golden Plover or the odd Little Stint.
By late morning, when the heat haze had frustrated any attempts to get views of the waders or terns on the beach, it was time to start looking up. In the second half of April, the eagles and kites of early spring had, in the main, been replaced by migrating European Honey Buzzards. Many honey buzzards! Towards the end of the month, a daily high count was just 11 birds short of 1,000 raptors. While this sounds like a lot, seasoned migration watchers in this area will have had much higher daily tallies. That said, we were in lockdown and were utterly thrilled with such a spectacle.

As April progressed, European Honey Buzzard became the default migrating raptor overhead (Steve Hutchinson).
Early May
Lockdown restrictions were to be eased a little on 2 May. This meant that we would be allowed one hour of outdoor exercise per day and only within 1 km of home. Not much of a relaxing, but something at least. The pasture and the scrub to the west of the campsite had been tantalizingly close but, under the rules of lockdown, out of bounds. Now they were within our range, if only for an hour a day. Which hour should we chose? Which hour would you have chosen? We were restricted in this choice to the hours between 6 am and 10 am. It was getting light at 7.15 am – 8-9 am it was, then.
Immediately our lockdown list went up, with the addition of Melodious and Willow Warblers, plus Spotted Flycatchers. Was this, we asked ourselves, what we had been missing all along? It proved to be a one-day wonder. On subsequent days, our one-hour outing proved nowhere near so productive.

Melodious Warbler was one of the final list additions in early May (Paul Cools).
An announcement by the Spanish government gave us the news that lockdown restrictions were to be relaxed still further on 11 May, and while lockdown would continue in a less restrictive form, we would be less confined to the campsite. As such we decided to wrap up our lockdown list at midnight on 10th.
If you'd asked me before lockdown how many species I would hope to see from the confinement of the campsite in the space of just over eight weeks, I might have had a wild stab at 65. If I had given it a bit more thought I may have revised that estimate up to perhaps 90 species, if we were lucky. Our actual lockdown list ended up at a wonderful 135 – an absolutely magnificent total. What's more, our migrating raptor count had exceeded 3,700 individuals. We have missed many of the birds that we normally expect to see on our trips, but we have also seen many that we normally miss because we are out birding in other areas. Lockdown forced us into a specific type of birding, that of staying still and seeing what turns up, and it proved to be a highly satisfying, environmentally friendly and greatly rewarding experience.