Looking back, 2017 seems a particularly curious year in the world of British birding. A paucity of easterly winds in the autumn meant pickings were slim on the east coast, especially set against last year's haul, but the entire year was punctuated by a varied selection of fine rarities. Many of these stuck around to be widely enjoyed, some were the centre of spirited debate and two were potential additions to the British list. Whether or not you travelled to see the defining vagrants of 2017 for yourself, together they produced a stirring 12-month saga.
January
For many of us, the first days of 2017 included a trip to the normally quiet suburb of Stow-on-the-Wold, Gloucestershire, where the male Blue Rock Thrush discovered four days ahead of the New Year was still on offer. However, with each extra day that the adult bird paraded around local gardens, distrust of its origins grew. Had it made a break from a local private aviary? Consensus swayed towards lenience by its seemly departure on 3 April, its remarkable relocation at Beachy Head, East Sussex, three days later salvaging enough credibility to win over all but the last naysayers and perhaps alleviating the Rarity Committee's decision to accept the bird as Britain's seventh.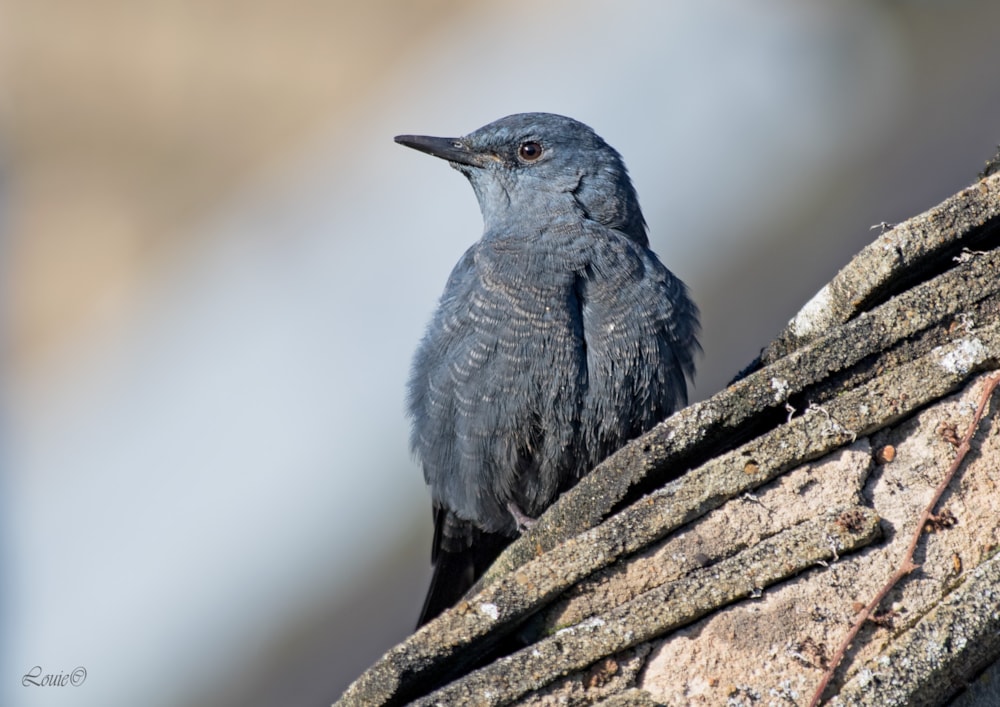 Blue Rock Thrush, Stow-on-the-Wold, Gloucestershire (Louie Horleston).
Another of 2016's heirlooms, less shrouded in controversy, was the first-winter female Dusky Thrush at Beeley, Derbyshire, delighting birders throughout January and only departing on 10 February, by which time the species' once enduring blocker status had fully rescinded. Following the previous autumn's astounding influx, it was only a matter of time before a wintering Pine Bunting was unearthed for year listers to enjoy. As it happened, it only took a few hours, with a female found in Shropshire on New Year's Day and further birds turning up in Kent, North Yorkshire and Norfolk in January.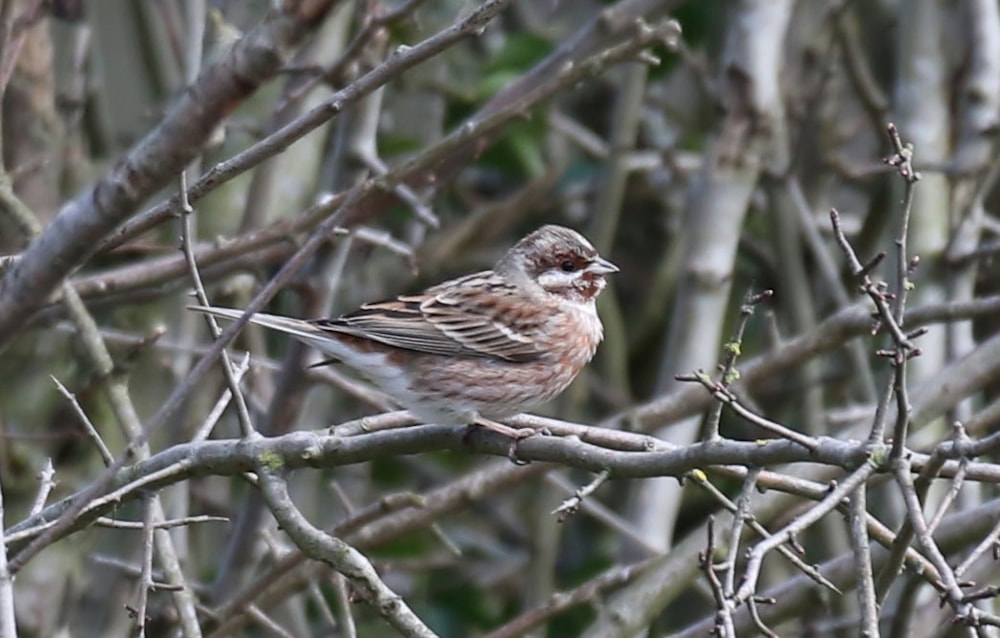 Pine Bunting, Dunnington, North Yorkshire (Dave Mansell).
February
Another prophesised lurker in the wake of 2016's bounteous autumn was Siberian Accentor and indeed one graced Invergordon from 8-14th. Despite choosing a private site, where a twitch was unfeasible, the bird rendered a vicarious satisfaction at the species sliding onto the national year list. Between 15 January and 26 February, a Lesser White-fronted Goose lurked in Essex between Foulness Island and Wallasea Island, but access issues prevented many people catching up with it. More accommodating, and perhaps more wild, was the wintering Hooded Merganser on Barr Loch, Clyde, last seen on 23rd.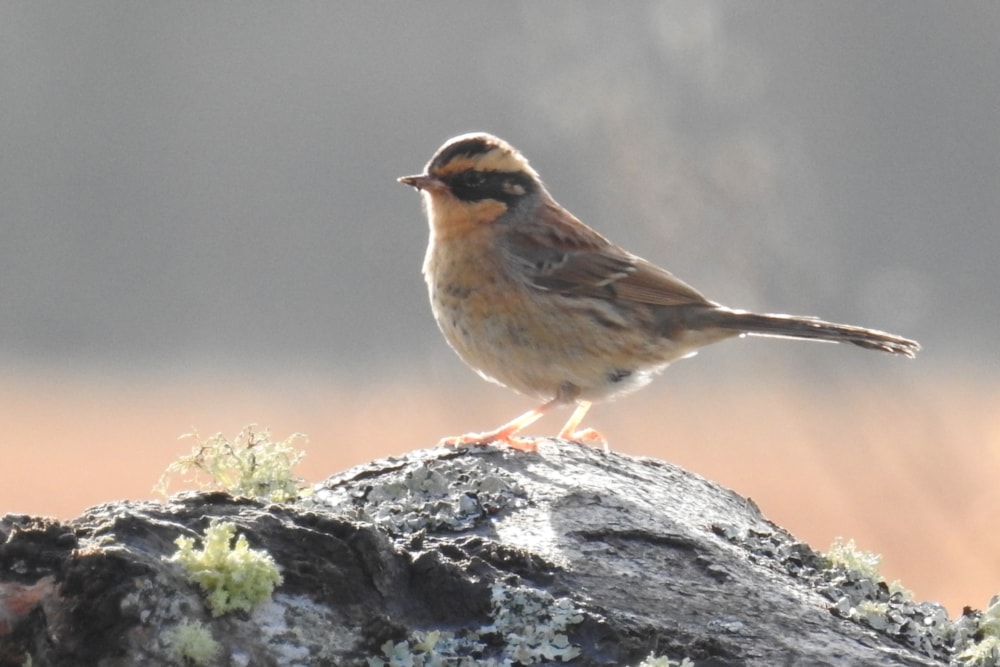 Siberian Accentor, Invergordon, Highland (Anonymous).
March
A third-winter Glaucous-winged Gull on Fair Isle came somewhat out the blue on 2nd and might have tempted a few eager folk to make the voyage had it stayed a little longer, and some interesting logistics would no doubt have been employed for the Allen's Gallinule on St Kilda, Outer Hebrides, were it not long dead on discovery on 26th. A Baillon's Crake looked quite misplaced as it pottered about Porthchapel Beach in Cornwall before flying on, never to be seen again.
April
The spring didn't take long to deliver its first quality twitchable bird, however, with a gaudy adult male Common Rock Thrush flitting around St Martin's, Scilly, from 9-15th. The first half of April was a time for goodbyes as overwintering rarities yielded to migratory urges. The Killdeer at Sandwick, Shetland; the American Coot on North Uist and the Hudsonian Whimbrel at Perranuthnoe, Cornwall, were all seen for the last time, but other Hudsonian Whimbrels turned up in Co Cork in May and Co Sligo and the Outer Hebrides in September.
It was 29th when panic stations were launched, though, as a first not only for Britain but the whole Western Palearctic had us scrambling to North Ronaldsay, Orkney. A Red-winged Blackbird was not particularly 'on the radar' and this female became the first of 2017's two additions to the British list. Its 16-day stay gave anybody suitably keen the chance to get to the legendary isle, despite some questions as to the species' potential to cross the Atlantic without a helping hand. Such concerns didn't dissuade many listers; after all, it surely wouldn't be the least likely natural vagrant on the British list.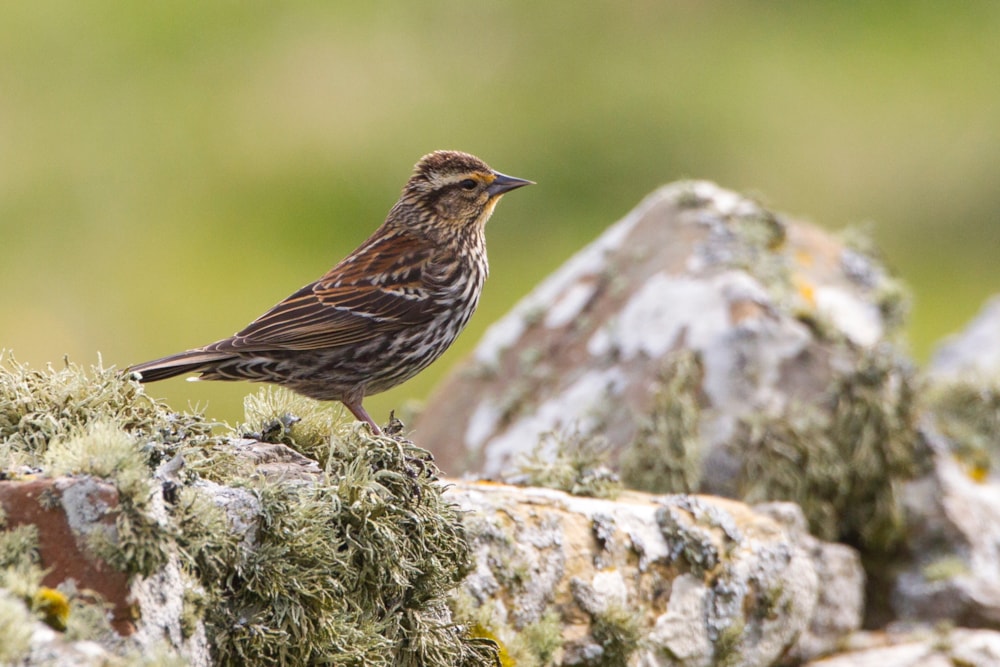 Red-winged Blackbird, North Ronaldsay, Orkney (David Monticelli).
May
Many of the other key birds of spring 2017 were only reachable by, at best, fast-moving locals. These ranged from a Two-barred Warbler on Foula, Shetland, on 30th, a daunting prospect for a twitch if ever there was one, and an evening performance from a male Spectacled Warbler at Portland Bill, Dorset, on 9th to one-day showings from a Hermit Thrush and a Lesser Kestrel on the Isle of Noss, Shetland, on April 19th and May 1st, respectively.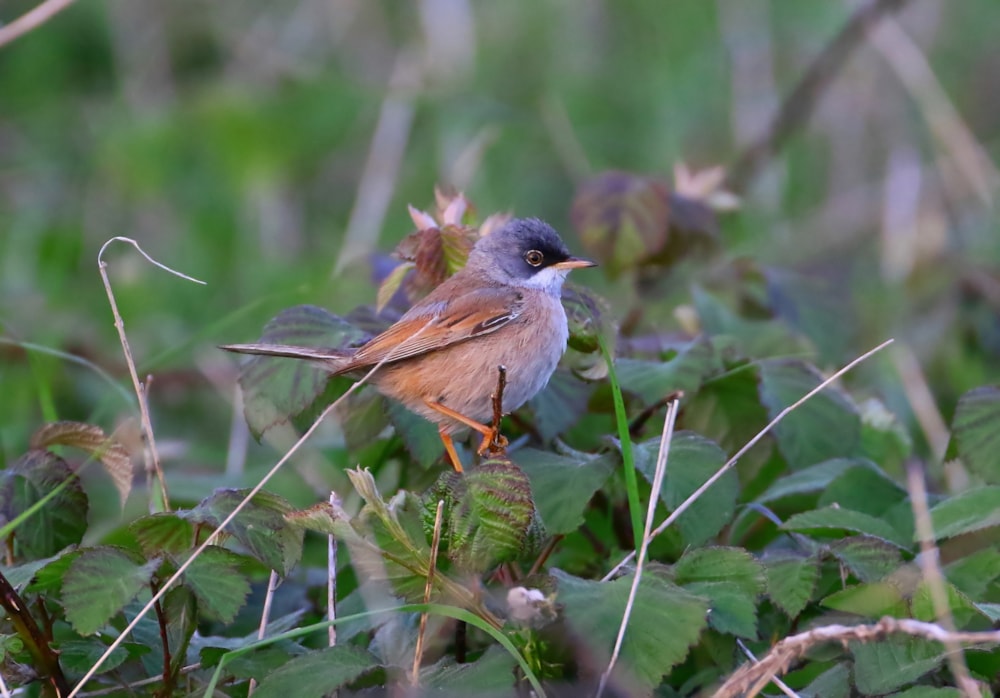 Spectacled Warbler, Portland, Dorset (Lee Fuller).
At least five Dark-eyed Juncos were reported over the spring but none was twitchable. A Baltimore Oriole spent 14th and 15th on Tory Island, Co Donegal, and a Eurasian Crag Martin appeared over the dam at Lake Vyrnwy, Powys, on 25th. The now famous adult Black-browed Albatross which has whiled away recent summers in Germany and gets occasional itchy wings made tantalising appearances around Flamborough Head and Bempton Cliffs, East Yorkshire, from 13-18th, but somehow a full-on twitch just never happened.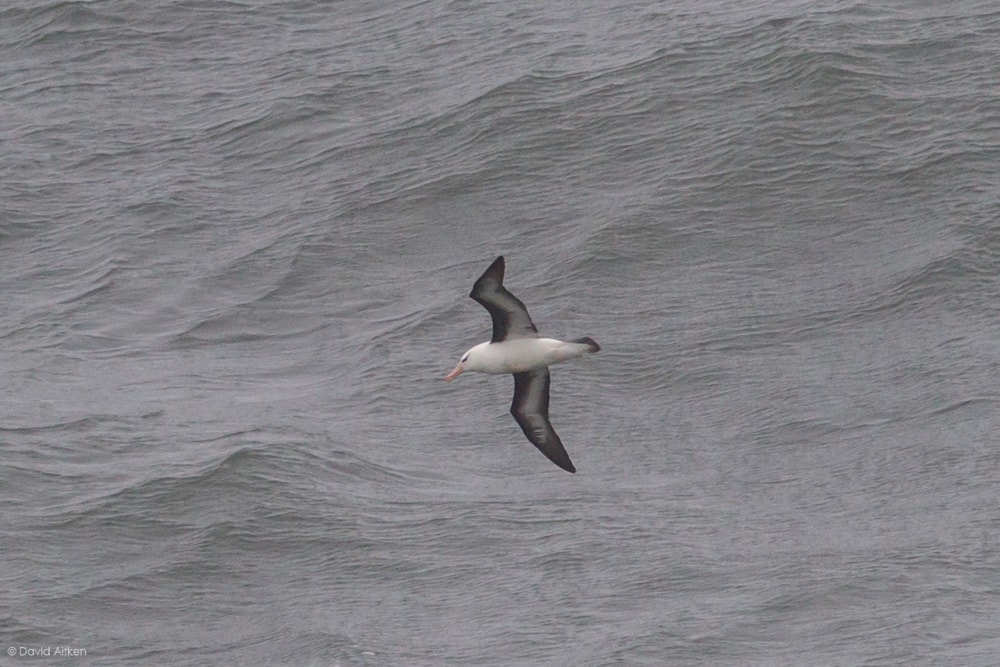 Black-browed Albatross, Bempton Cliffs RSPB, East Yorkshire (David Aitken).
June
We were finally given something to sink our teeth into on the mainland when a pristine adult Elegant Tern, sporting colour rings, pitched up on Hayling Island, Hampshire, on 7th. It proved slippery for a tense couple of days, but from 10-20th became settled and predictable amid the lively mixed tern colony in Pagham Harbour, West Sussex. The bird then spent 21st and 22nd in Poole Harbour, Dorset, before upping sticks altogether and moving across to France, its usual summer retreat since 2002.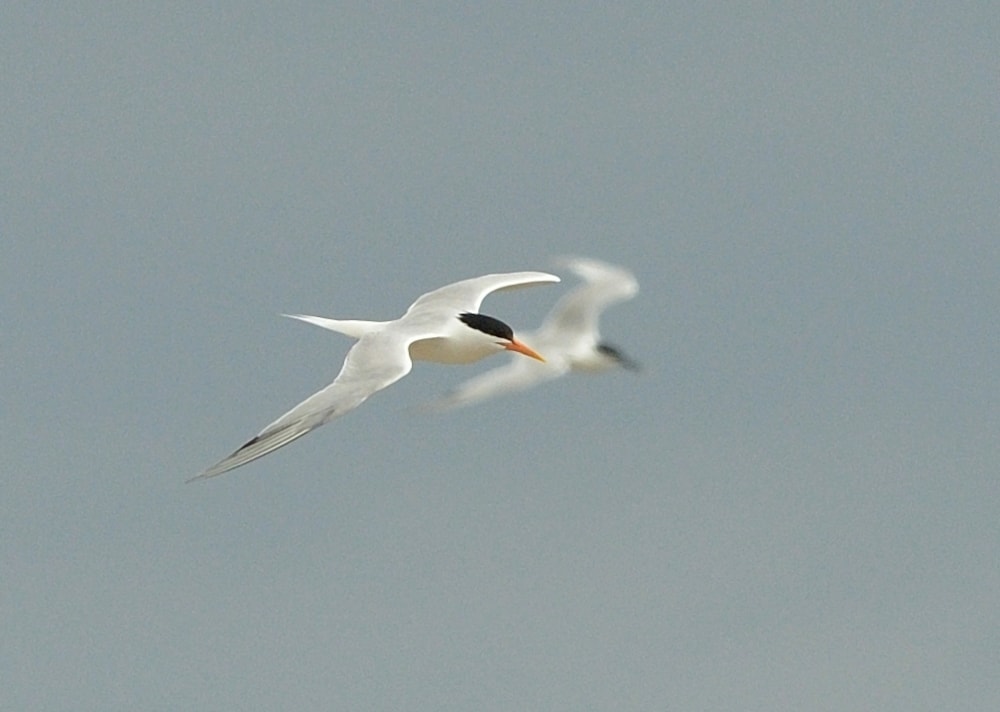 Elegant Tern, Church Norton, West Sussex (Baz Scampion).
With the recent confirmation of the genetic purity of this and two other regular birds in France and Spain by means of DNA analysis, effectively quashing doubts over the heritage of six previous British and Irish candidates, the timing was apt. It also provided an ideal remedy to news of a fly-by Sooty Tern at Uisaed Point, Argyll, on 2nd, the first in Britain and Ireland since 2005.
The summer had in store a call-back to 2013 with, once more, appearances from both a White-throated Needletail and a Pacific Swift. On Barra, Outer Hebrides, on 22nd and at Longhaven, Aberdeenshire, on 2 July, respectively, both were in view long enough – around an hour – only to thrill those in the immediate area. On the same day as the Pacific Swift, Aberdeenshire's drake American White-winged Scoter reclaimed its place amid the scoter rafts off Blackdog, only vanishing after 19 August; later in the year, a juvenile drake was on Unst, Shetland, from 16-22 October.

American White-winged Scoter, Murcar GC, Aberdeenshire (Kris Gibb).
On 18th, photographs were posted online of a simply stonking male Myrtle Warbler as it sang in the same Skokholm courtyard which hosted 2016's Swainson's Thrush. Boats were in place to head there the next morning, but the bird had done a bunk.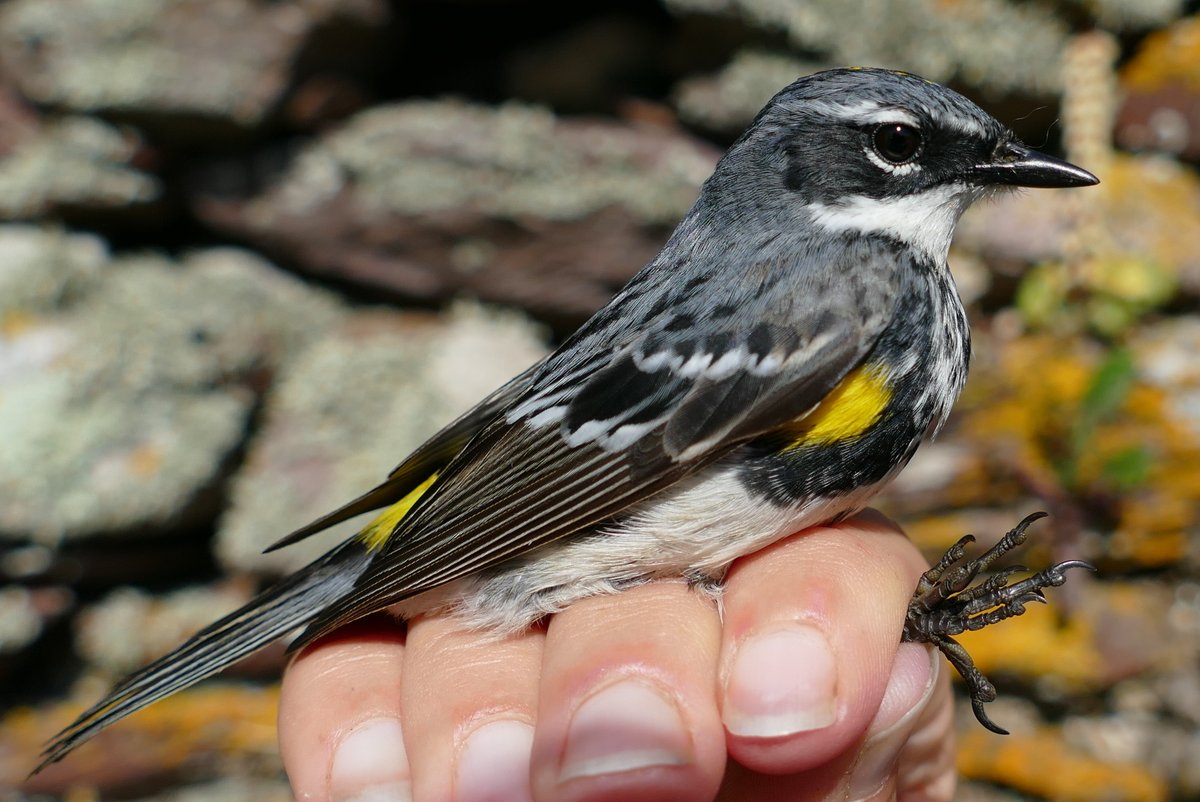 Myrtle Warbler, Skokholm, Pembrokeshire (Richard Brown).
July
A particularly radiant 'Greenish Warbler' on Fair Isle, Shetland, from July 4-7th stirred thoughts of Green Warbler, but struggled to get anyone to gamble and make the journey, something widely regretted when a DNA result proved the bird to belong to the rarer species.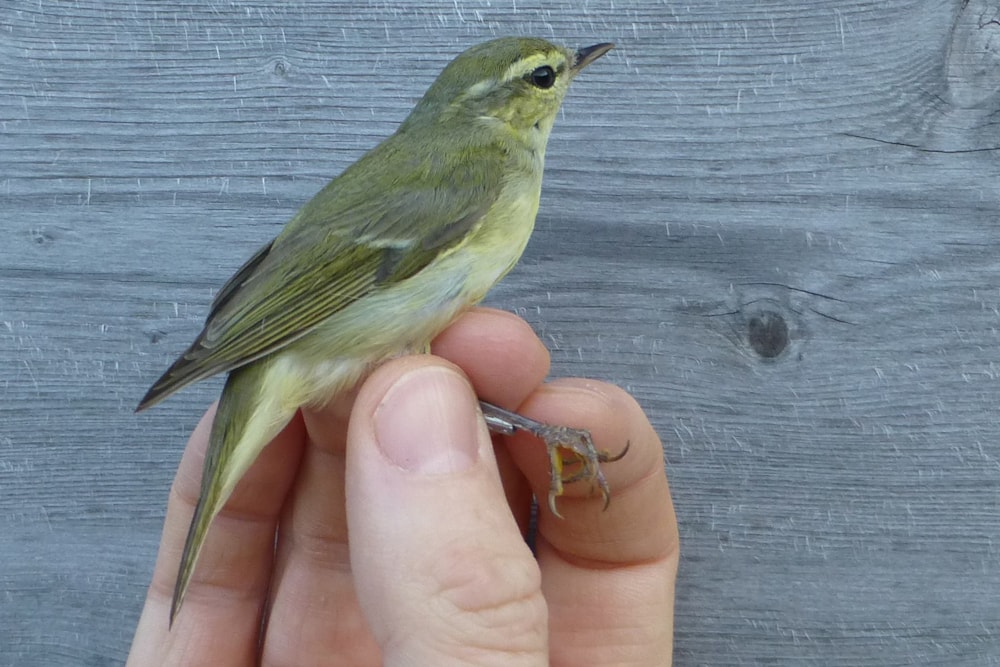 Green Warbler, Fair Isle, Shetland (David Parnaby).
Fortunately, the other end of the country answered with a pain-free mega, and one which settled a rather common score in the world of British twitching. In 2008, most birders drove past Britain's first Amur Falcon on their way to and from a Brown Shrike at Flamborough as the bird was considered 'merely' a Red-footed Falcon for its entire month-long stay; its true identity was only realised later as photographs were scrutinised. Fortunately, this year's Amur Falcon, a first-summer female in Cornwall, was swiftly identified and broadcast on the evening of 6th. It showed well at Polgigga for much of the next day and resurfaced at St Buryan on 17th and 18th. History was also re-visited when one of the Swinhoe's Storm Petrels first trapped and ringed on Fair Isle in 2013 was recaptured there in the early hours of 14th.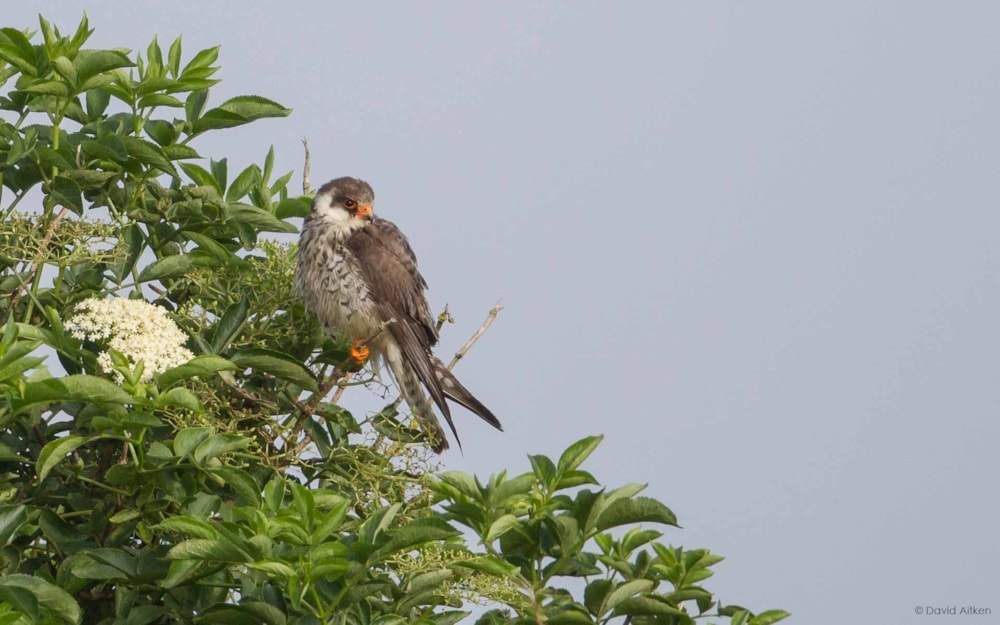 Amur Falcon, Polgigga, Cornwall (David Aitken).
August
British and Irish birders were in for an early autumn treat with the landfall of two American Yellow Warblers on 21st, the discovery of one in a garden on Mizen Head, Co Cork, being followed later in the day by a conveniently placed individual at Portland, Dorset. The Irish bird lingered till the following afternoon, but the other continued its journey overnight. And so the theme was set for the rest of the autumn, with seemingly little 'Sibe' credit rolling over from 2016, and instead Nearctic landbirds supplied most of the action.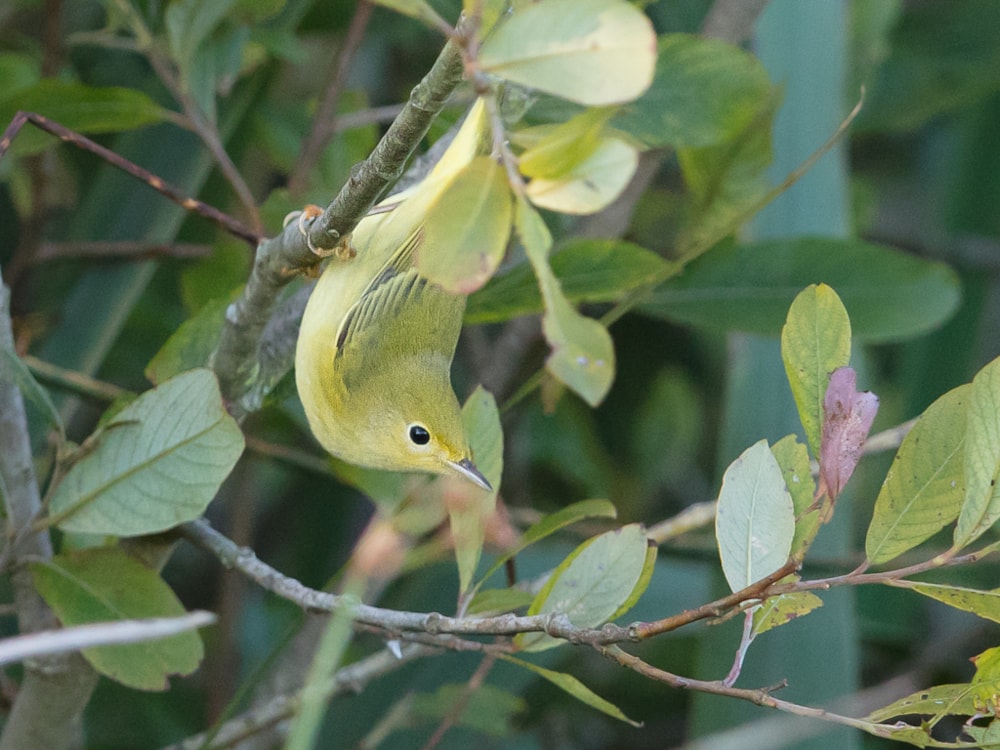 American Yellow Warbler, Portland, Dorset (Tim White).
September and October
The most memorable rarity of the autumn was surely the American Redstart on Barra. This beaming little bird, a first-winter female, was loyal to a small stand of sycamores behind the church at Eoligarry for 11 days from 7 September, a handy thing since the species was last twitchable in 1985.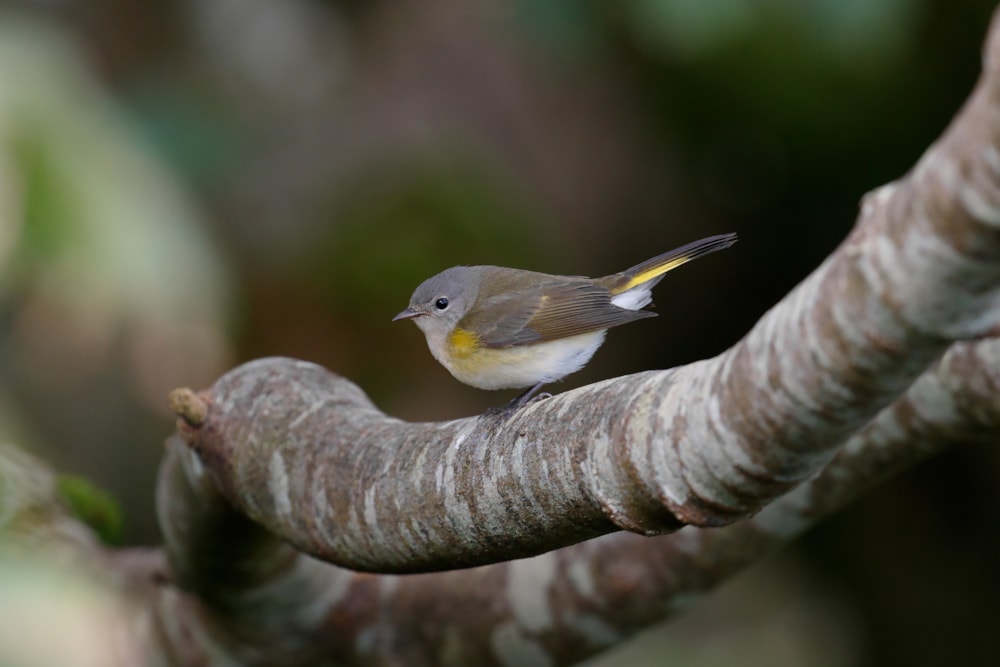 American Redstart, Eoligarry, Barra, Outer Hebrides (Josh Jones).
Scilly came into their own again with St Agnes attracting a Rose-breasted Grosbeak from 29 September to 1 October then a juvenile Cedar Waxwing from 2-9 October. An American Cliff Swallow toured Tresco and St Mary's from 2-6 October, seemingly relocating to Porthgwarra, Cornwall, the next day. In a good year for the species, another flew through Spurn, East Yorkshire, on 22 October. Also among Scilly's top-billers was a rarity of Palearctic origin and 2017's second addition to the British list: an Eastern Orphean Warbler on St Agnes from 12-17 October, with the identification settled after the bird's departure.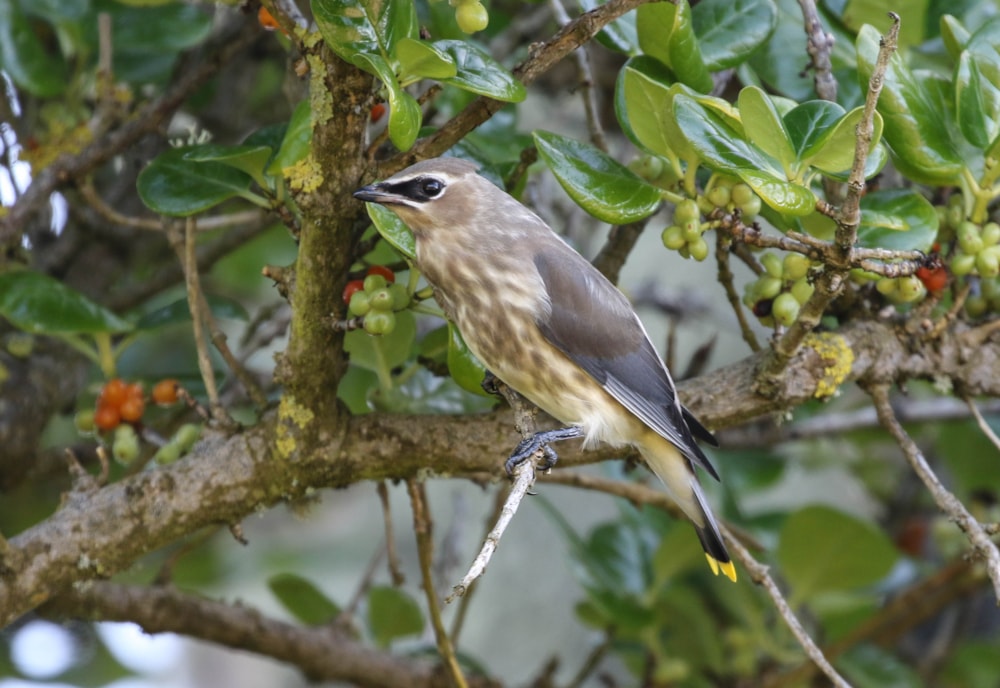 Cedar Waxwing, St. Agnes, Isles of Scilly (Ashley Howe).
Among other high-ticket transatlantic vagrants over the meaty part of the autumn were Scarlet Tanager, Swainson's Thrush and Common Yellowthroat in Co Cork, and Upland Sandpiper, White-crowned Sparrow and Black-billed Cuckoo on Shetland, with a Yellow-billed Cuckoo also turning up on Scilly. Last year's Semipalmated Plover was picked out on Achill Island, Co Mayo, again on 13 September and last noted on 25 October. From 25 September to 5 October, the decade's first twitchable Eurasian Scops Owl wowed a constant crowd at its chosen roost site at Ryhope, Co Durham, a fluke discovery in part for a local patch-worker raising binoculars to a Phylloscopus warbler.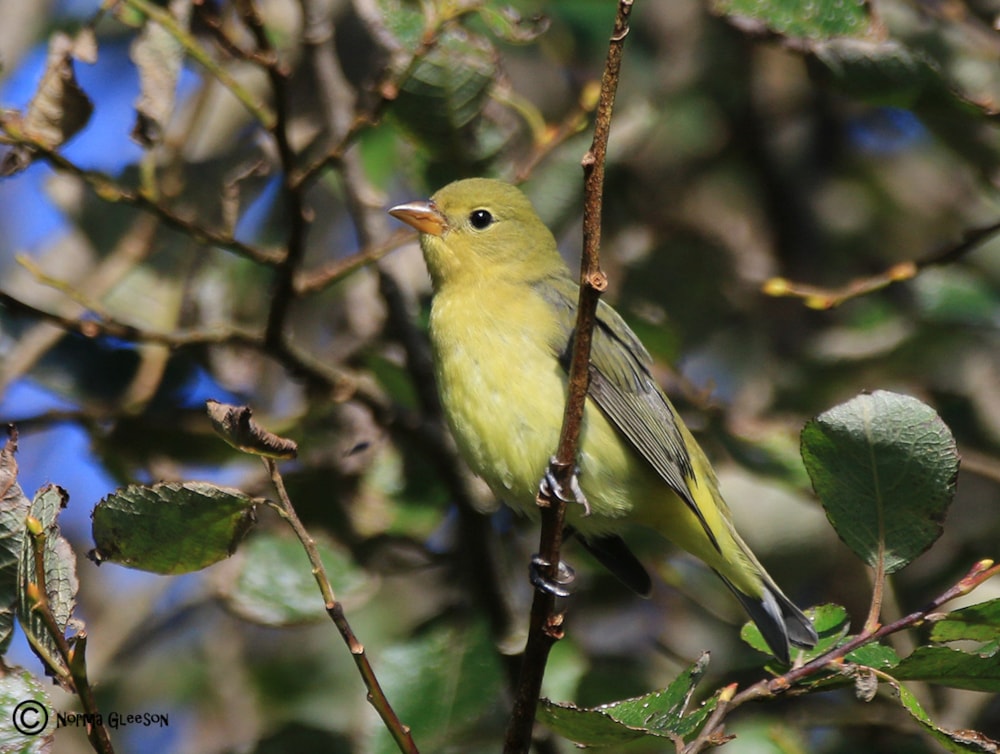 Scarlet Tanager, Mizen Head, Cork (Norma Gleeson).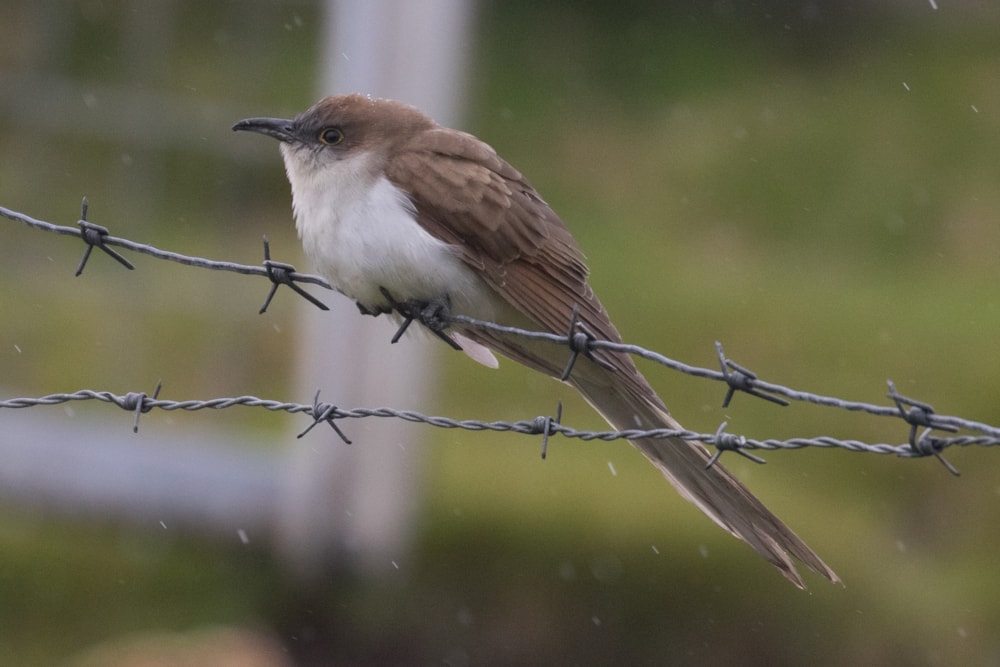 Black-billed Cuckoo, Dale of Walls, Mainland, Shetland (Rory Tallack).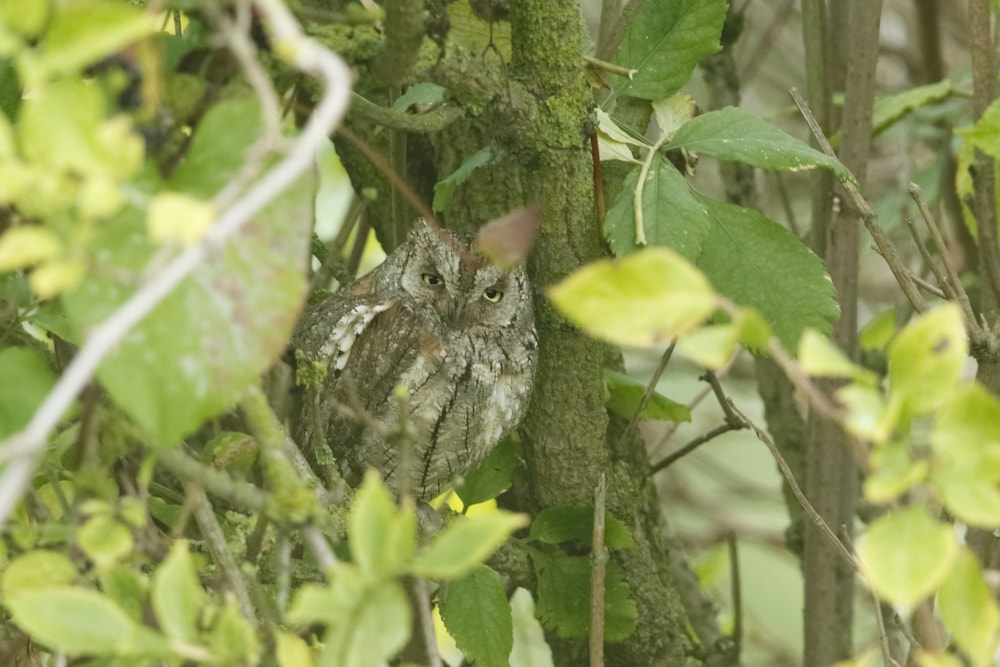 Eurasian Scops Owl, Ryhope, Durham (Colin Bradshaw).
While not nearly as manic as the autumn before it, the 2017 season did throw out a handful of desirable eastern vagrants, the dreamiest being the adult male Siberian Blue Robin rescued from a building on North Ronaldsay on 8 October, the island's second headline bird of the year. Out Skerries, Shetland, hosted a Yellow-breasted Bunting from 20-22 September, a Siberian Rubythroat was on Bressay, Shetland, on 5 October and a Siberian Thrush graced Unst on 20 September. A Sykes's Warbler spent three days at Skirza, Highland, from 26 September, but was unavailable to the masses. Thankfully, we were given another shot at Two-barred Warbler, the year's second bird performing well at St Aldhelm's Head, Dorset, from 15-18 October, a topical mega considering we adopted plumbeitarsus as a species with IOC taxonomy on New Year's Day 2018.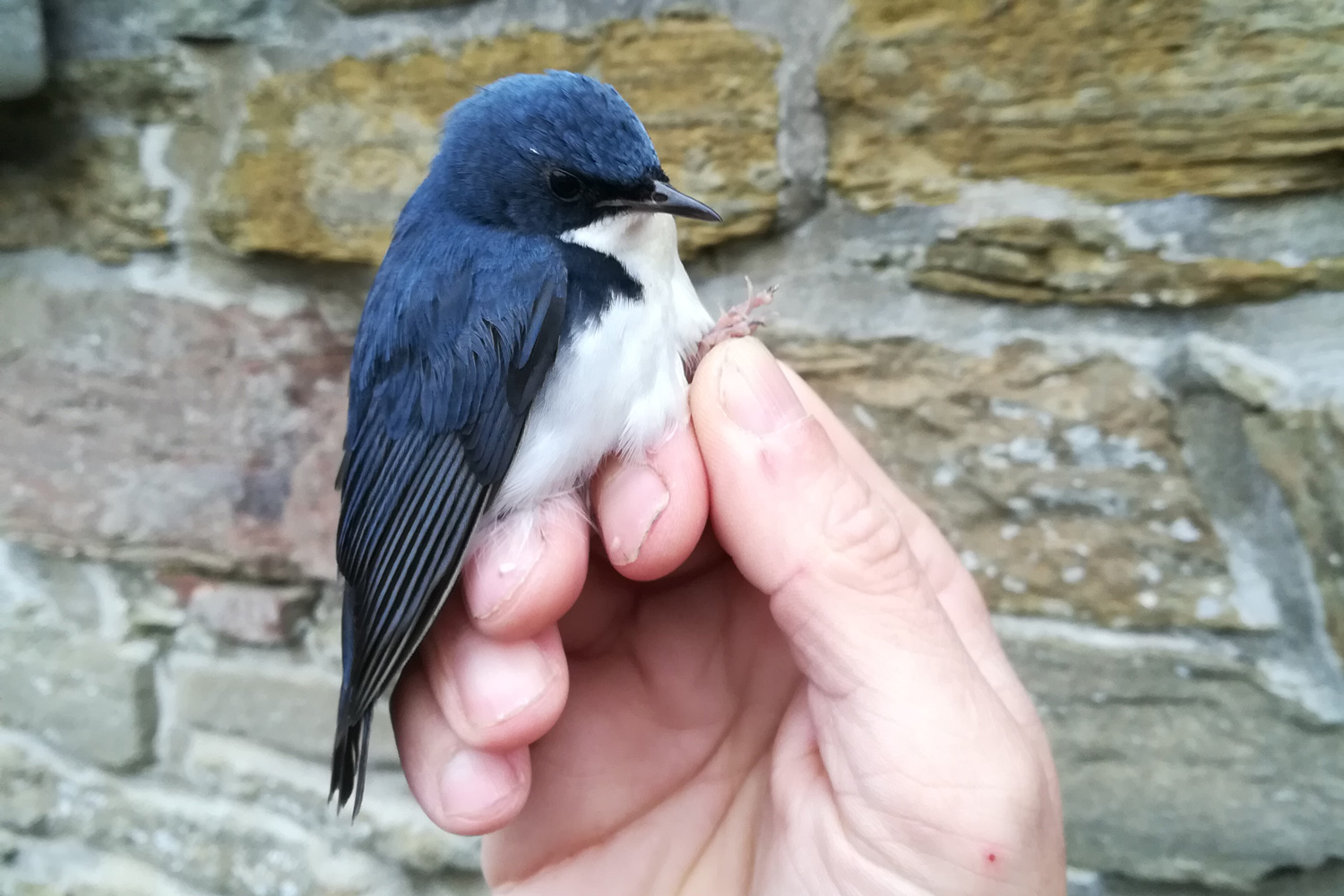 Siberian Blue Robin, North Ronaldsay, Orkney (Tom Gale).
November and December
The tail-end of the year was rather uneventful, save for an intriguing sparrow, which for all intents and purposes looked a perfect fit for Italian, at East Budleigh, Devon, from early November, and an apparent American Horned Lark at Staines Reservoirs, Surrey, for several days in mid-November as well as befitting appearances from an American Coot on Lough Gill, Co Kerry, on 9 November and a Killdeer on St Mary's, Scilly, on 29 December. A Pied-billed Grebe settled in at Loch of Spiggie, Shetland, from 4 November and the bird at Loch Feorlin, present since 28 March, was last reported on 6 December. Quite how far the sparrow will make it through the committees is uncertain, but the seemingly low odds of a vagrant making it here set against the hybrid possibilities might not stand in its favour.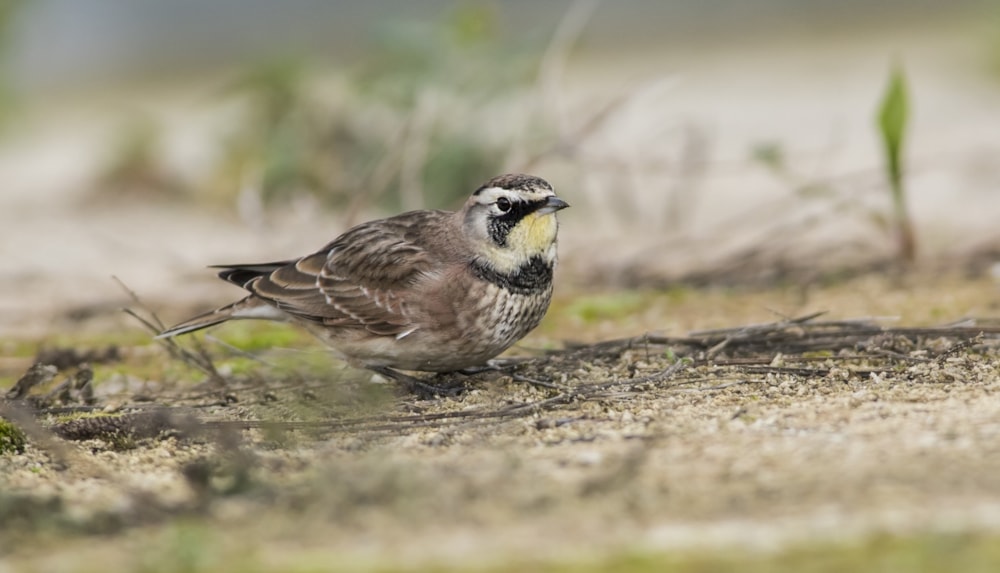 American Horned Lark, Staines Reservoirs, Surrey (Bob Eade).
Invasion
For many, 2017 was defined not only by its range of fantastic rarities, but by extraordinary showings from birds which do not normally make these roundups. After positive signs of things to come earlier in the summer, the South-West Approaches experienced a veritable glut of Wilson's Storm Petrels between late July and early September, with one pelagic trip out of Baltimore, Co Cork, scoring a mighty 56 birds on 6 August. From mid-October, much of the country was swarmed with literally thousands of Hawfinches, enlivening local birding into the winter as a high proportion stuck around. Another treat was a Parrot Crossbill invasion, not expected so soon after our last hit in 2013, with several arriving on Shetland in October then a bit of a lag before flocks started to materialise in the south and east of England in November and December, affording viewing and photographic opportunities to be savoured. In all, while 2017 might not have turned out as expected, it served as a reminder that birding's unpredictability is what makes it so fulfilling and left us with a whole bundle of wonderful rarities to remember.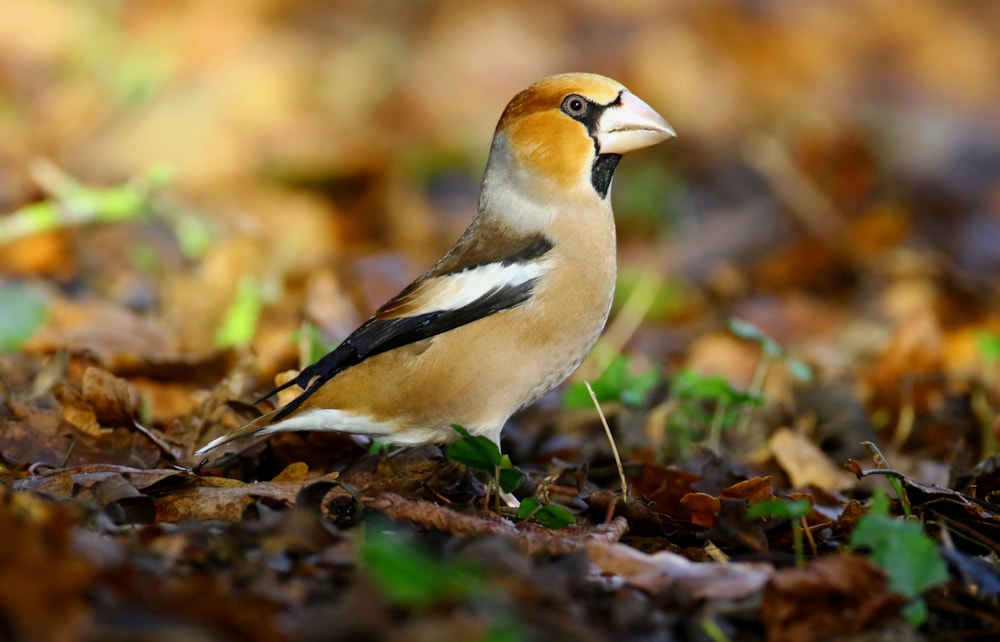 Hawfinch, Hampshire (Lee Fuller).


Parrot Crossbills, Santon Warren, Norfolk (Gary Watson).